[NPC] Cindy Donovinh
(?)Gaia Staff
Posted: Wed, 24 Oct 2007 00:57:50 +0000

Good evening, Gaians. This is Cindy Donovinh of Gaia 9 Action News with a recap of the latest Gaian news and events. Exciting developments are brewing behind the scenes, so let's turn it over to the Gaia admins for an inside look:

The Halloween Costume Contest is underway! We've been getting tons of cool entries, but we'd like to remind you one more time:
Your photo must include a sign showing your username!
We need to know that the photo you're entering is really a photo of you! Putting your name on the image in MSPaint or Photoshop or something
WILL NOT WORK!
If you're not actually holding something in the photo with your username written on it, your entry will be massively disqualified, no matter how awesome it is.
You've only got until the end of the week to submit your entries, so get crackin'!
In other news, voting has officially closed on Gaia's Item Creation Contest! Next, we'll tally up the votes and start building the winning item, which will come out sometime in the next few weeks. Many thanks to all those who entered, and congratulations to all the finalists for their outstanding efforts.
Only a week left to get this month's Collectibles! October's items are the
Grunny
, the
Gothic Veil
and the
Vampire Hunter Gear.
These are some of our most popular Collectibles ever, so they're sure to become hot commodities for collectors.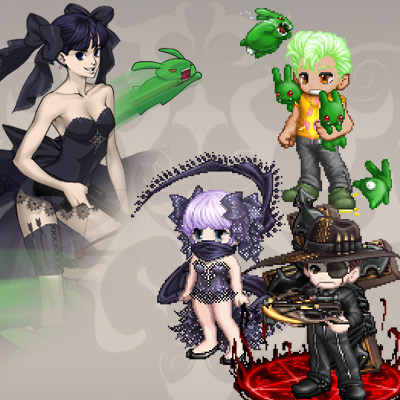 To get these items for your avatar or try them on in the Dressing Room, check out our Monthly Collectibles Page.

Coming Soon: The Gaia Cash Shop
We've been working on the concept of a Gaia Cash store for a long time, and we're almost ready to release the first version. For many years, we've offered just one kind of virtual item for sale at one price: Monthly Collectibles for $2.50.
We can't even count the number of times we've had a cool idea for an item, but thought "that's way too complicated to be a Collectible," or "that's not quite complicated enough to be a Collectible." With the release of Gaia Cash, we can be much more flexible. The Gaia Cash Shop will let us do a few very interesting things for you guys:
• Release special items that cost way less than Collectibles (many Cash Shop items are 25 to 50 cents). One Gaia Cash card could last you a long time!

• Release special items that are even more crazy and complex than Collectibles (some Cash Shop items might cost more than $2.50).

• Release premium items that are available for more than a month! It may sound obvious, but we've never done it before.

• Create items that have magical properties and do crazy things (for example, items that evolve over time or potions that give your avatar a new skin).

• Create a system to send "special occasion" gifts to friends, like wedding dresses, birthday presents, etc.

• Sell Monthly Collectibles in a simple Gaia Store interface, so you don't have to go through the whole purchase process rigmarole every time you buy one.
The Gaia Cash Shop won't replace Monthly Collectibles, normal Gaia Gold stores, or our regular free item updates.
It will just let us get way more crazy and creative with the items we offer, and it'll give you something to do with that Gaia Cash that's been burning a hole in your pocket
xd
Enough gab. Let's check it out: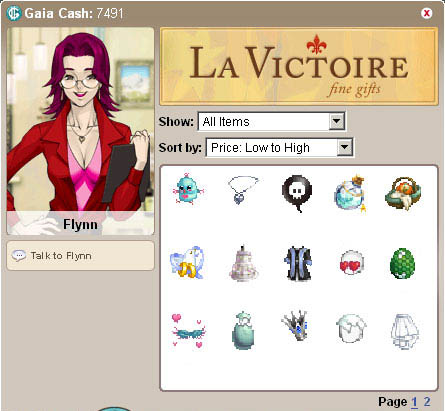 The elegant Flynn showing you some of the luxurious items for sale. The item thumbnails look a little wonky in this mockup, but they'll be normal-looking in the final release. They'll also have their prices displayed, of course.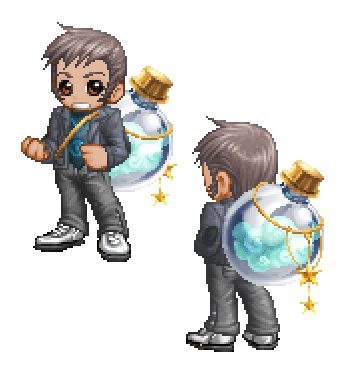 The first series of premium Cash Shop items will be unlike anything we've released before. This may look like a normal bottle, but
it contains a magical creature that will grow and evolve over time
. Who knows what wonders hide within?
Stay tuned for more Gaia Cash Shop info!
Also Coming Soon: Gaia VJ
The doors of the Gaia Cinemas are about to be opened to all, ladies and gentlemen! Gaia VJ will let you create your own movie playlists from popular video sites (like Youtube and Metacafe) and watch them with your friends in a Gaia Cinemas-like theater.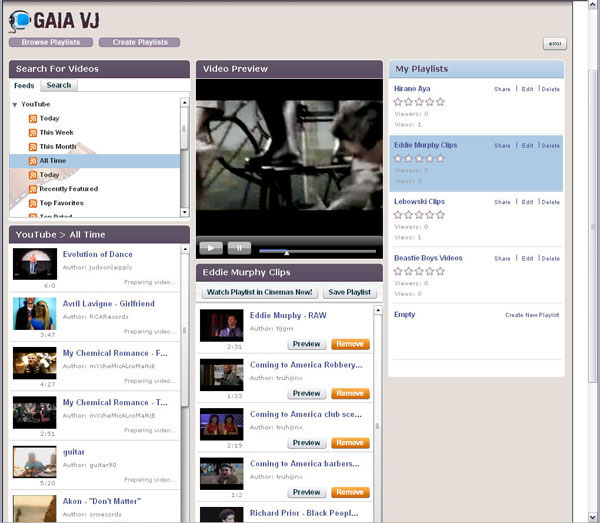 Create your own playlists with a simple drag and drop interface. You can save up to five playlists with ten movies each.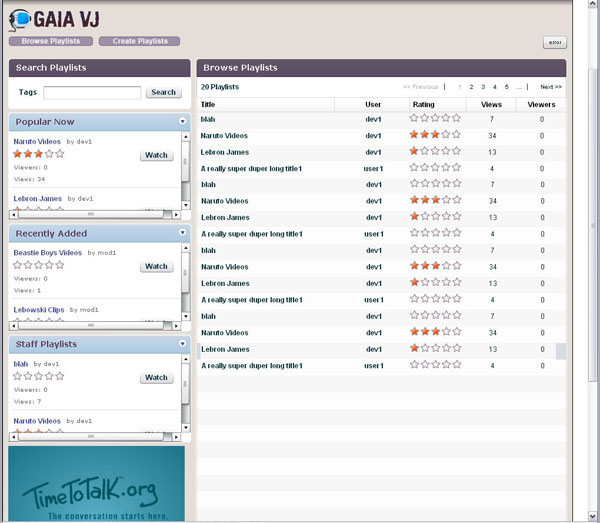 Browse and rate other people's playlists and find the most popular ones.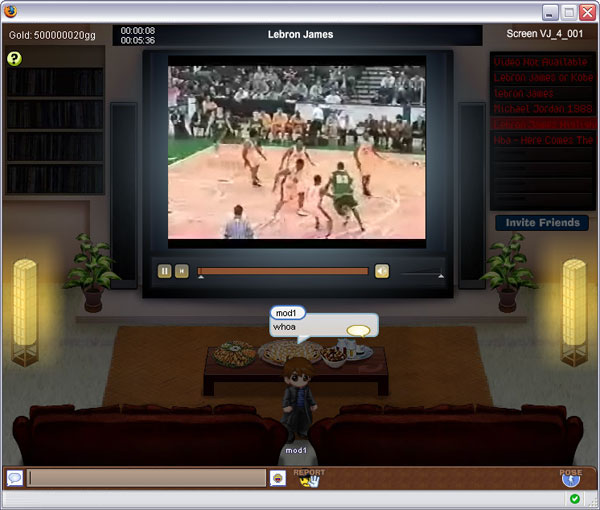 Watch videos with friends in the comfort of your own (internet) living room!
Aside from being cool as heck, this thing is also useful. You can send playlist links to your friends, and they can watch them even if they're not Gaia members. Share your videos with the world!
Believe it or not, that's not all. We've got some other insanely cool, A-list mega awesome features coming out soon, so keep an eye out for more info. 2007 isn't over yet!

We're all still reeling from the massive, spectacular October item update. We know that you've been working like fiends to work up the gold for your Halloween outfits, but we thought we'd tease you with a little reminder of all the cool new stuff in the shops: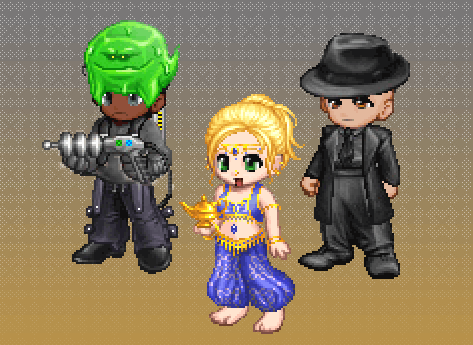 That image shows the
Ghost Hunter
,
Lovely Genie
and
Zoot Suit
sets, but there's plenty more stuff scattered around Gaia's shops: cat ears, clown suits, Halloween masks, elf ears, and even a glamtacular, Bowie-esque
Starman
outfit. Better ice up your mouse hand, shoppers, because you've got a lot of clickin' to do.

We've recently made an update to our official
Rules & Guidelines
. When you've got a spare moment, please take a look. It's always a good idea to be familiar with the rules, so if you've never checked them out, now's a perfect time. At the risk of sounding like a flyer for a high school homecoming dance, let's all have a fun and safe year! Whoo! Go Wildcats!

We've improved the Art Arena! We've made some changes to speed up the time it takes for your art submission to be viewable by everyone. Hosting your images on certain image hosts, for example, will make the process speedier, as well as making sure your image fits within the size limits.
Also a reminder to everyone: if you find a submission that you believe is not appropriate in the Art Arena, please notify our moderators by using the report system.
heart

Gaia Cash Cards should be working their way onto shelves at Target and Rite Aid! You can redeem these cards for Gaia Cash and pick up tons of neat stuff: Monthly Collectibles, items from Gaia's NPC shops and stuff from our upcoming Gaia Cash Shop.
The $25 Target Cash Card includes a special gift: a Kaya the Cat plushie!
You can pick one up today at a Target or Rite Aid store near you! For more info, you can check out our
official announcement
.