Mugetsu Ookamiza
(?)Community Member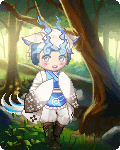 Posted: Fri, 20 Apr 2012 03:51:34 +0000
Killer-chan_x3SEME
Mugetsu Ookamiza
Killer-chan_x3SEME
Mugetsu Ookamiza
Killer-chan_x3SEME
Mugetsu Ookamiza
it's the "fault" of the people from multiple nations that helped create the current set of laws regarding how copyrights and licenses are handled right now. but those laws WERE created for a reason and do serve a valid purpose. but they do need to be reevaluated a bit thanks to how things are with the internet.

but there's really no reason to rage. you CAN buy it in the marketplace and there WILL be people in the US buying extra to sell to those outside the US so the prices won't get too high. and you have to spend money to get them anyway, so you may be able to work out a deal with someone if you can buy Gaia Cash yourself, such as you buy them an item from the Cash Store that costs about the same as the FMA:B RIG and send it to them and they buy the RIG and send it to you.
but the thing is i seem to not get how only america can have these shows and yet because of licensing we cant have it? we have to buy it (expensively might i add) to even get the right to watch it when it should be accessible to everyone who wants to watch, and have the option to buy only when they have seen it which i do if i watch an anime on the net i like i will buy it to support the anime. :I but i just hate these laws that they have at the moment.
America isn't the only place that has licensed FMA;B. it's just only licensed by FUNimation in the US. in order for an anime to be released outside of Japan another company has to buy the license from the Japanese copyright holder so they can translate and distribute it. they may also get digital rights with that license or even some merchandising rights as well. a company that licensensed it will only have the rights to either their country or general region depending on the exact agreement they made with the copyright holder.
this system exists because before international copyrights existed someone from country A could come up with, say, a bestselling book that gets them a lot of fame and money and yet someone from country B could start repriting it, selling it, and make a lot of money off it themselves without the person who wrote it in country A getting any money from the sales in country B. essentially this allowed people to unfairly make profits off the works of others provided they were from a different country. so international copyright agreements, and licensing laws, came to be.
well i can get that since my friend does not buy from a legit source and she bought china remakes and they sucked so bad the quality was terrible and the figurines did not even fit on their stands =w= so shes loosing money not gaining by buying cheep crap from china
and the Chinese companies that sell those cheap bootlegged goods made money, none of which goes back to the people who own the copyright to the franchise.
i know and even i coulda made a better job of the figurine then what they did! one of the figurines wasnt even painted! wtf! =w= we should be blaming the people who do copyright to make profit and to shut them down rather then the customers suffering and resorting to buy those bootlegged items just to have what americans have!
unfortunately Chinese law tends to lean towards the side of the Chinese bootleggers. insanely enough a Chinese bootlegging company managed to successfully sue a a Chinese company that was legitimately releasing an anime in China that the bootleggers had been releasing for a while before. considering that copyright violations are held in the court of the country the offender is from the only real way to do anything about Chinese bootlegs a lot of the time is educate people about them and encourage them to avoid them.