Kuroi Jinouga
(?)Community Member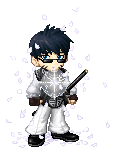 Posted: Sun, 18 Nov 2012 05:34:46 +0000
Vampire Aine
Kuroi Jinouga
Vampire Aine
Kuroi Jinouga
Vampire Aine
I don't know if I can do that...I seriously don't think I can. I mean things are a little out of control in KirkWall,but it's the Templars fault.
So? Who cares whose fault it is. The Templars are tyrannical and the Mages there are all liars. Both sides should perish. If I had the right I would push the Rite of Annulment on all of them. Anders, Orsino and Meredith especially. They know the punishment for doing such things.
I kinda agree, though I reallllllllllyyyyy wish you could have talked Anders out of blowing up the Chantry. Or at least the Grand Cleric would leave KirkWall (DLC).

Meredith deserves death. She allowed herself to become such a hateful b***h she allowed herself to get possessed by a magic idol of pure Lyrium(or something even stronger)

Orsino should have NEVER been first enchanter. He's heart for his students is to strong to be able to control them.

Anders....I wish I could really learn why he hates the circle so much. It has to be something deeper then the unfairness of the children being stripped from their family.
In each of them is a weakness of self. In a position of power, They must lead with a firm yet yielding hand, they must not see individuals of either side, but a suffering whole. If they are not up to the task, they do not deserve their station. The grand cleric was the only one actually trying, seeing through the deception of one who would start a holy war, trying to appease both sides so that they may live in a fragile but relative peace. Anders is a selfish murderer who deserves redemption only in death.
I agree about the Grand cleric

Peace is only achieved by War. It is a lesson any history book can tell you. I believe in Anders I really do though killing the Grand Cleric instead of Meredith was the wrong way of doing it. If he killed Meredith and Orsino the Grand Cleric could start over promote Cullen and carefully pick a mage to become first enchanter.
Every single war if in Da terms or Real History a act of terrorism leads to war then to peace so without war there will never be peace. Though Da is filled with on going wars between many different areas that are still going most were started by a rebellion or a act of terrorism.
That's why I have never killed Anders or ever will.

What is the cut scene like when you kill him does he give you a sappy I did this for the mages thing?
The very fact that he chose to attack a place of sanctuary, chose to destroy one place where the innocent go to instead of a place such as the Templar Barracks where those sworn to the order are, chose to takes the lives of those who were to help him, chose to push the fear of the Rite of Annulment on those he swore to protect and pretend that he cares for the well being of all mages is laughable. I protect my own, I do not sentence them to death for my sins. I do not stain the names of those, I hold close with blood from my own hands. If one is to die then it should have been Meredith, it should have been Orsino, It should not have been the Grand Cleric who sought to protect all.
That Peace is only ever the end result when one side has been obliterated or both sides are far too exhausted of life and power to go on any further or the winner has enslaved the other, then you have a fragile peace at best. A good example is the war between the elves and the humans, look how decimated the culture has become, is that the result you wished for? Is that the idea of peace you so agree with? Do those of the alienage look happy? Do those that remain of the Dalish seem grateful to have their lands destroyed? It was a result of War, by an act of Terrorism led by the Tevinter, do you believe they are in the right? I don't. When I look at Anders I see all the things I hate about the Tevinter in him, he deserves nothing.
He knew what he had done and had chosen the easy way out, like the coward he is, I gave him what he wished for, my last act as his friend