Valtiel the Watcher
(?)Community Member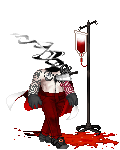 Posted: Tue, 14 Feb 2012 15:56:13 +0000
The Smoking Bar
Breaking News
I had the pleasure of attending the West Coast Finals of Ron Diplomáco's World Tournament yesterday. It was stiff competition between all 8 contestants, 7 of which came from right here in San Francisco with the 8th and final contestant coming from Portland Oregon. Each contestant had 5 minutes to create a cocktail showcasing one of Ron Diplomatico's rums. The commit ion was as stiff as the drinks and in the end Burbon and Branch's Darren Crawford came out on top. He will now go to Venezuela to compete against bartenders from around the world to see who the best bartender is. To keep up to date with all the news regarding this event and who finalists in your country might be, check
here
Welcome to the thread about drinking and smoking and s**t like that.
it seems this thread was a bust in the Main LD forum so I hope that this thread has a better home here. I mean, Tobacco is a food right? Either way cigars and alcohol go together like peanut utter and jelly so I'll mention both.
Other Threads and Links
An Alcoholic's Guide to Not Overdoing it
Beachbum Bliss ☠ The Art of the Tiki Beverage
Homemade Boozy Delights and Their Applications...
A Round Of Drinks
cheese_whine
Many of us drink for various reasons, but usually it's to get shitfaced. Most of those brightly colored cocktails are designed to make up for the fact that most people have not acquired a taste for these abrasive beverages. I hate most of those drinks. If you think Bailies Irish Coffee is too strong, you enjoy the numerous flavored vodkas that exist or you ever enjoyed a "Cosmo" or "Appletini" then you might not enjoy these drinks. If you however want to try something classic or near toxic and everything in between then sick around.
A Few Standard Recipies
The Martini
A simple enough drink. You always hear people saying "make i dry dry DRYER GOD DAMN IT! Use an eyedropper of vermouth, no LESS!" I still don't fully understand the reasoning behind this since what's the point if you can't even taste the vermouth? why not just pour yourself a glass of gin? That being said some notes. 007's Vodka-tini will never be a martini. I have no idea why this is so popular, When I ask for a martini at a bar I shouldn't have to say that I want gin in it. Also don't shake them, make them stirred. 
2 parts Gin (I'm most fond of Hendrick's or Bombay Sapphire)
1 part Italian Vermouth (Bianco or dry depending on your tastes)
Pimento Olive
Fill a bar glass 2/3rds of the way with Ice. Pour the Gin and Vermouth into the glass and Stir Vigorously for 30 seconds. Strain into a 4 oz cocktail glass and garnish with an olive or a lemon twist. If you prefer the older standard, The turf club used equal amounts of vermouth and "Tom" gin and added 2 or 3 dashes of angostura bitters.
The Manhatin
Pretty much the Martini's whiskey based, more versatile cousin. It is a drink that doesn't demand nearly the orthodox attention that the martini seems to ask for. It can be made with Scotch, Irish Whiskey, Rum, orange bitters, angostura bitters, with a dash of absinthe what have you.
2 parts Burbon (I generally use rye with mine but it's not as sweet)
1 part sweet vermouth 
2 dashes of angostura bitters
maraschino cherry or lemon twist for garnish.
Pretty much made the same way the martini is. Stirred, never shaken. Look for some good variations like the Rum Manhattan, The Black Manhattan, or the perfect Manhattan made with dry vermouth.
The Margarita
Yes the pre-made mixes seem nice but honestly it's mind-numbingly simple to make fresh. Also make sure that the tequila says 100% agave on the bottle. Would you drink scotch that was 60% scotch and 40% mystery alcohol? didn't think so.
juice of 1/2 a lime
2 oz's of tequila (Best to use Bianco or silver)
1/2 teaspoon of agave nectar to taste.
optional 1/3 oz of triple sec
Use a shaker to vigorously shake the ingredients for 30 seconds. serve in a salt rimmed glass on the rocks or straight up if you prefer.
The Aviation
1 1/2 oz gin
3/4 oz fresh lemon juice
1/2 oz maraschino liqueur
1/4 oz crème de violette or crème de Yvette
Fill a mixing glass halfway with ice, and pour in the ingredients. stir vigorously and then strained into a chilled cocktail glass.
Improved Gin Cocktail
2 oz genever
1 teaspoon simple syrup
1/2 teaspoon maraschino liqueur
1 dash absinthe
lemon peel for garnish.
Fill a mixing glass halfway with ice, add the fluids and stir vigorously for 30 seconds. strain into a cocktail glass and then garnish with the lemon twist.
Old Fashioned
1 sugar cube
2 dashes of angostura bitters
2 oz of whiskey (bourbon or rye)
Lemon rind for garnish
Muddle the sugar cube in the bitters and a splash of water. Pour the whiskey into the bitters mixture and garnish with the lemon. Can be served on the rocks or straight up.
Sazerac
1 sugar cube
3 dashes of peychauds bitters (no angostura is not a substitute for this)
1 1/2 oz's of cognac or rye whiskey
1/4 oz of absinthe (Pernode or Herbsaint if you can't get real absinthe)
Lemon peel for garnish
Get two old fashioned glasses, pack one with ice to chill and I. The other, muddle the sugar cube with the bitters and a splash of water. Pour in the cognac and mix with an ice cube or something. In the other glass discard the ice. Pour the absinthe in the glass and allow it to coat the glass. A small pool should form on the bottom and discard the excess. Pour cognac mixture into the absinthe rinsed glass and garnish with lemon peel.
BONOUS ROUND!
Possession (Bioshock Infinite cocktail)
Ingredients:
1 bunch of Basil
1/2 Lemon
1/2 Lime
25 ml Sugar Syrup
50 ml Tanqueray Gin
Abisnthe Froth recipe (Serves 4):
1 Egg White
25 ml Sugar Syrup
25 ml Water
25 ml Absinthe
Directions: Add Basil and Lemon half into a cocktail shaker and muddle the two heavily. Next add a shot of sugar syrup to the mix, add in the Tanqueray gin double measure, fill to the top with Ice and shake vigorously. Finally strain through a strainer forcing any remaining liquid out of the ingredients. Serve in a rocks glass with fresh ice. Add some Absinthe froth to the top of the drink. To make the froth, combine the ingredients in blender and whisk until foam forms, skim some off and add to the top of the drink.
"With POSSESSION, the free will of your enemies matters no more. Make your foes blindly fight and die for you." -Fink Manufacturing advertisement
Drink created by James Dance of Loading as part of an official Bioshock Infinite series of drinks. The drinks will be be served at Loading's Bioshock Infinite event in Soho on March 29th. Photography by Will Edgecombe.
"but what about Tobacco?"
Before you ask yes of course I know tobacco is not a food. Seriously do you really believe that this is not something that I understand? Is it impossible to grasp the possibility that with cocktails and alcoholic beverages being the main theme of this th read I thought that was reason enough to place this thread in say... Oh I don't know, the food and drink forum? If you don't smoking is not a prerequisite for enjoying this thread but rum, scotch, whiskey and tequila all go amazing with cigars and pipe tobacco.
Well s**t. Yes smoking is still a very big trend thanks to big Tobacco Companies and all that but more and more the finer tobacco products are making a comeback. Yah yah it's not weed and it won't get you high, it'll give you cancer, surgeon general etc etc. Cigars and pipe tobaccos are something you smoke for the flavors and the nice sweet and savory blends. I have a sweet tooth when it comes to tobacco myself so I usually hit the pipe. I like it since people don't mind me smoking something that smells like cherries or caramel in their homes. Cigars generally are spicy and savory. I prefer medium to mild cigars myself with a bit of a sweet flavor to them.
I recentally had the pleasure of meeting one of the members of the Grand Habano family as he was showcasing his cigars. I am mainly a pipe smoker so it was nice to gain a bit of knowledge of cigars that i did not have previously. I am still fresh to the world of cigars since my budget makes it impossible to buy more than one or two cigars a month so anything anyone can share would be great.
The Favorites
I only have a few favorites in both pipe tobaccos and cigars. if you have any personal favorites let me know and I may post them here.
Cigars
I was introduced to cigars with Arturo Fuente's Hemingway cigars. They are very good for starting out but my current favorite are the people from Gran Habano. The Gran Reserva #3 is pretty mild wrapped in cedar. It has a sweet flavor similar to pipe tobacco. it makes for a very smooth smoke.
I have recently become quite partial to Tatuaje cigars. They are hard to find but relatively inexpensive and very very good quality.
Pipe Tobacco
Grants Tobacconist
This is the house tobaccos from my favorite tobacconist. They're relatively inexpensive and for bulk tobaccos they make for a good smoke. My favorites are the Old drum and the Royal Reserve, both a sweet mild smoking tobacco, the former having a heavy vanilla flavor while the other tastes a bit like caramel.
(Due to being evicted, it will now be impossible to find this blend of tobacco anymore. Information in the disappearance of this long time institution can be found
here
)
Mac Barren
I like the dark twist, a slightly sweet blend with a bit of kick to it. I also like the chocolate and honey as well but usually have to blend that with something mild to cut the bite.
Samuel Gawith
I like these alright. the firedance is interesting but it can be almost too sweet and fruity, like a fruit roll up. Another one i had had so much bite to it it was practically unsmokable.