Soulfulness
(?)Community Member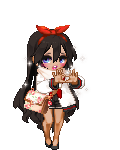 Posted: Wed, 11 Apr 2012 01:09:49 +0000
I need some honest critique concerning my 'Pokemon' Fanfic. (: Please and thank you?
sweatdrop
Summary:
Cheated out of winning the final battle, Touko is forced to run away to keep the flame of hope alive; though its deadened. Thrown into a whole, new world, Touko is forced to rise above all the rest, and come back a stronger hero...and save Unova.
Link Version (I'd appreciate it if you left your comments/critiques in a review, but posting here is fine too):
Rise And Fall
Chapter 1:
"Naturally." Cheren added, giving me a look of approval. Shooting both him and Bianca a grateful look, I stepped forward and took the lid off of the gift box. Quickly reading over the note encased along with the poke-balls, I tossed it onto the table.

Over each poke-ball was a card with the picture of the pokemon within each. My eyes greedy, I scanned over the 3 pictures; a Snivy, a Tepig and an Oshawott. Right away, the cute, kindliness of Oshawott's expression caught my eye, and I found myself slowly start to grin.

"You. I'm choosing you, buddy." I whispered as I softly picked up the poke-ball.
-
"So, I don't need him." The girl explained, motioning to the poke-ball in her other hand. "Would you like to take care of him for me?"

"Of course! I'd love to." I gushed as I took the poke-ball from her. "Thanks so much, this should help me a lot in the gym battle!"

"You're welcome." The girl smiled and waved as I walked off back in the direction of the gym, holding the poke-ball to me preciously.

"Welcome to the family, Pansear." I whispered, smiling.
-
"Water gun, Dewott!" I called out, watching the battle unfold with analyzing eyes. Dewott, my faithful little buddy, was facing off against a wild Sewaddle. He had the disadvantage, type-wise, but Dewott was holding its ground.

He let out a feral growl and attacked, closing in on the poor little guy and giving it no chance for any retaliation.

"Back up, Dewott." I told him, rummaging through my bag. "Go, Poke-ball!"

I threw the Heal Ball with all the strength I could muster, and watched, anticipating my failure. To my surprise, though, the ball shook three times and dinged noisily.

"Oh, wow..." I mumbled to myself. "My first, legit catch. Thanks a bunch, Dewott!" I called out as I withdrew him.

"Well, that makes three!" I couldn't help but shout out in glee. "Another member for the family!" I then made my way through the grass, glowing with success. Those Team Plasma idiots were going down.
---
Funny the things that run through your head when your world's falling apart, huh? For me, it was the memories of the times I got my first three pokemon; the three that have been my side for a long, long time.
"Samurott." I called out, my voice ringing through the ozone-filled air. He cried out, showing he was paying attention to what I had to say. "Use razor shell!"
"Zoroark!" N's voice called in retaliation. "Use shadow ball! NOW!"
I watched, slightly dazed, as the two hastened to follow our instructions. Samurott, despite his size, run a few steps and leaped into the air, gracefully arcing towards N's Zoroark. The two made contact, the shadow ball exploding and the razor shell slicing through the air. Moments after, they fell onto the granite flooring, breathing heavily.
"Samurott!" I called out in panic. No...it couldn't end now...
"Sam...Samurott..." He panted, getting back onto his paws.
"That's my baby! C'mon, you got this!" I encouraged, feeling my heart fall into my stomach when I remembered I was out of potions and revives. This was, in all sense of the word, 'it'. It's either I save Unova and its trainers, or end their days with their pokemon.
"Get up Zoroark!" N called out, sounding...desperately angry? Well, he had the right to.
"It's time to end this, Samurott!" I called out, my eyes ablaze with an indescribable, fiery passion. "WATER PULSE!"
Samurott, staggering just a tad, pounced through the air again, the ball of water ready and aimed.
That's when he was hit with a dozen bolts of electricity, arcing over my head. Crying out in surprise and pain, my final pokemon hit the floor, out cold.
"SAMUROTT!" I screamed, scrambling forward. Suddenly, I was pulled back (rather roughly).
"Let me go!" I thrashed around, my hot tears rolling down my cheeks.
"TOUKO!" Cheren's voice came. "What the hell do you think you're doing?"
The last bit was directed towards the Plasma goons whom were holding me back.
"Let the brat go." Ghetsis' voice cut through the air, haughty as ever. "And call off the pokemon."
I was shoved towards the ground, but I kept my balance. Whirling around, I ran to where Alder and Cheren stood, looking disgruntled and panicked.
"Touko, did you win?" Cheren asked, sounding...scared? Cheren? Scared? "What the hell is going on?"
"They...they attacked Samurott before he could finish off Zoroark!" I cried, before I turned to face the 'king' and his 'advisory' again. They were leaning over Samurott.
Oh, hell no.
In a last ditch attempt to keep my very first pokemon safe, I threw out its poke-ball. The red lights indicated that Samurott was, indeed, pulled back into his safe haven.
"Well, now, look's like the precious hero has lost." Ghetsis smirked. "My lord N has won, naturally."
"Touko." Alder murmured, and softly placed something in my hand. A revive. "Go. Only you stand a chance, Touko, against winning."
There were no walls, no barriers. Nobody except for Cheren noticed the transaction between the old champion and I.
Quietly, whilst the older of the green-haired men was still boasting, I slipped the revive into the poke-ball.
"And now, we liberate!" Ghetsis cackled. "You know what I mean, Touko."
"That was a dirty trick, you b*****d!" Cheren roared, glaring daggers at the men standing mere meters away from the three of us. "That wasn't fair, either!"
"TOO BAD." Ghetsis yelled, stepping forward menacingly. "She lost, we won. End of story!"
"Find your way to the Jhoto Region." Alder told me, hissing through his teeth. "You'll find help there, Touko. Go, now, while Cheren has them distracted."
I nodded numbly, my body overridden with shock and despair. "What about you and Cheren?"
"We stay." Alder said firmly. "We stay and buy you a few, precious minutes. Once you cross over into Sinoh, they can't pursue you."
"Thank you." I murmured, eyeing the dull, white flash; Reshiram was ready.
"Touko stays-" N started, but was interrupting by protests from Ghetsis and Cheren.
"No!"
"She's not your pet!"
"I'm not staying." I spoke up, albeit quietly. "I'm going, for now, but mark my words N...Ghetsis...I will be back. I'll be back and kick your sorry asses to hell."
With that, I threw down the poke-ball and jumped onto Reshiram's back, my other poke-balls safely held in my hands. "Go, Reshiram!"
Immediately, Reshiram picked herself off the floor with a great thrust of her wings, sending waves of air in every direction. She soared into the night sky, the stars shining blindly in the near distance.
"Touko!" N bellowed angrily. "Come back. NOW!"
"Cross the borders to Sinoh, please." I told her softly. "I have money on me. There, we'll rest and I'll heal the others."
Reshiram neighed softly, before flying as fast as she could in the direction of what I was guessing to be Sinoh. Shedding one last tear, I turned to watch the castle fade away into nothing, the darkness of the night shielding its massive bulk from my blurred vision.
"I swear to Arceus, I will be back." I murmured softly.
-
Chapter 2:
"Reshiram, you can stop here." I told her, my voice dull and dead-sounding.
"Child, stay strong and keep believing. That is the only way."
"Who said that?" I called out warily, my voice cracking due to the fact I didn't use it for a while. We'd flown in silence, lost in our thoughts (or so I as guessing).
"Child, it's me, Reshiram."
She spoke calmly.
"Awakening me awoke your dormant powers. You can understand pokemon just as well as N, if not better."
"I..." I stuttered, unable to speak for a few, precious moments. "Oh, wow, okay..."
"I'll land in the trees."
She decided and folded her wings back, causing us to slowly start descending.
"It'll keep us hidden. I have no doubt that N is searching for you even as we speak."
"Why?" I asked her, getting off her back. "Why me?"
"From what I gathered, he was planning on forces you to...ah...bear his heirs."
She sounded disgusted.
"By force, if need be."
"Oh god..." I murmured, clutching my stomach; I suddenly felt extremely sick. "Okay, you rest here, I'll go buy some supplies."
"Stay safe, child. Though our time together has been short, I still care deeply for you."
Reshiram murmured, nuzzling my neck with her head softly. I smiled, before patting her snout and nodding. "I care for you, too, Reshir-you know what? 'Reshiram' is a mouthful. I'm gonna call you...oh! I got it! Riri!" I clapped my hands, excited.
She chuckled (as much as a dragon could chuckle...), amused.
"Whatever keeps you happy, child. Come back soon."
I nodded again, slipping my remaining 5 poke-balls into my pouch. "I will. I just need to fill up on food, potions and revives..."
And I walked off in the distant of the sparkling lights, hoping for things to, for once, go my way.
-
"That'll be...quite a bit, ma'am." The clerk told me, sounding skeptical. "You sure you have enough?"
Annoyed, I threw the right amount onto the counter and picked up my bags. "Yeah, I'm sure."
"Wow." The man mused, sounding vaguely impressed. "You from around here?"
"No." My answer was short; I wanted to get out of there. After fingering the handles on all the bags, I grunted and carried them out of the store. "Thanks."
"Thank you..." His trailing answer was interrupted by the store closing behind me.
"Riri!" I called softly, walking back to the small clearing where we'd landed. "I'm back!"
"Welcome back, child. I must say, we have to hurry. We just barely crossed the border, and N's search party has circled over the area more than twice. Come along, now."
Riri informed me, sounding worried.
"Ah, s**t." I grumbled, jumping onto her back. "Sorry about over-using you and your wings, Riri. I thought we'd be safe once we crossed over."
"No, dear. It's fine, I don't mind."
She told me airily.
"Moreover, I hope you grabbed everything you needed; we won't be stopping for a while. Not until we get to Jhoto, where you indeed have help."
"How do you know?" I asked, dumbfounded.
"You are a hero, child. I know more about you and your family than you most likely know."
"Do you know who my dad is?" I blurted out the question before my brain processed the thought.
"I do, child..."
She paused, hesitant.
"But it's not my place to tell you who it is."
"Alright." I sighed. "I guess I'm not gonna force you."
"Thank you for understanding, Touko. I deeply appreciate it. Though, I assure you, you will indeed meet him in due time."
"I guess..."
"I assure you."
"I trust you, Riri. I really do."
"If you trust me, sleep child. Sleep, and sleep with no worries. I shall not let us get caught."
"Thank you..." I was already drifting off into the blackness.
-
"You have to understand that she's gone through a lot just recently. Harm her in any way and I will step in."
"I understand." A man stated calmly. "I will hurt myself before I harm Touko."
With that, I opened my eyes, groggy.
The first thing I noticed was Riri's head sticking into a room through a window, as absurd as that sounded. Second thing was I was in a room. Third thing was that there were people in the room with me.
"Eh?" Was all I could say.
"You're awake!" The one with the dark-blue hair cried out in happiness, bouncing up and down in her seat on the couch that was tucked into a corner. "Thank god!"
"Troublesome, you're too peppy." The prune-head sitting beside her growled, but I could tell that he loved her; the fiery adoration was there in his eyes.
"Shut up Paul." The woman whined, giving him a pout. "I just met-"
"Both of you, quiet." The gray-hair elderly man spoke in a stern-voice. "You're going to scare her off before we can help her and Leaf."
Leaf? Who the hell was that?
"Ah. I'll shut up now, Professor Oak." The dark-haired girl stated solemnly, as if she was actually sacrificing something. She reminded me so much of Bianca; a little too much for me to handle, because a single tear slipped down my face.
"There, there child; don't fret. We'll save her and the rest of them."
Riri murmured, as if she could read my thoughts.
"I..." I whimpered softly, about to let everything go to her, when I remember the people in the room, who were currently staring at me. "Yeah..."
"Doesn't seem like much of a hero..." I heard the prune-head mutter. "OW!"
"Don't say those kinda things, Paul!" The woman scolded him. "It's not nice!"
"Don't worry." I told them dully. "He's right. I'm no hero, I'm a coward."
"Child-"
"No, Riri, stop." I told her firmly. "I can't do this. Please, for the love of Arceus, don't make me do this! I'm hurting my pokemon, Riri, and moreover the people I love! I should just hand myself in and let it be over with-"
"Don't speak like that, child. Your friends and family are counting on you. Your pokemon are counting on you. I'm counting on you. The whole Unova region is counting on you. NOW is that the time to be giving up!"
"Riri..." I whispered softly, giving her a look. "I...I need to talk with the others." Slipping my hand into my pouch, I started panicking when I realized the poke-balls weren't there. "Where are my poke-balls?"
"Here." The man with the brown-hair handed them to me, giving me a small smile of reassurance. "We took them out to heal them."
"Thanks." I told him, before grabbing my poke-balls and holding them close to me, cradling them. "Is there an open space I could let them out in?"
"Out back!" The elderly man spoke up, smiling. "I'd love to see some Unova pokemon!"
I smiled weakly at him, before untangling my legs and standing up, stretching all the while. "Riri, meet us out there?"
"Of course."
-
They led me out of the room and down a long corridor, them walking and chatting in front of me. Despite loosing myself to my thoughts, I could tell they were whispering about me.
"Ah, here we are." The old man announced, ushering me out the door. "Spend as much time out here as you'd like, dear."
"Thank you." I told him, before walking over to where Riri lay, waiting.
"Go ahead, child. Let us hear the words of your fam-wait, that's not the right word. Your pokemon...children."
Riri chuckled to herself.
"You understand what I am talking about."
I giggled. "Of course I do, Riri."
"She calls the legendary pokemon 'Riri'?" I heard someone scoff-prune-head, I'd bet-from behind me. Riri glared at said person over my shoulder, before returning her attention to me, watching attentively as I plucked out my poke-balls again. Watching them grow in my palm, I smiled slightly, before throwing them out into the air and crying out, "C'mon out, everybody!"
I watched the bright, white lights flash brightly, before my pokemon cried out in greeting; Samurott, Leavanny, Victini, Haxorous and Simisear.
"Touko!"
Samurott called out happily.
"You're alive!"
Simisear cried out in glee.
"Yay! She's okay!"
Victini yipped, jumping up and down.
"Thank Arceus."
Leavanny murmured as she pulled her arms to her chest, her soft voice soothing my somewhat jumpy nerves.
"Yeah, I thought I'd have to go back and kick that N dude's a**."
Haxorous growled menacingly.
I couldn't help but laugh; my pokemon were too adorable. "Hi, guys. How are you all?"
"Touko, we should be asking YOU that. Gosh, you're the one who had to go through all that! If I could, I'd bite off all their fingers! Yeah, that's right! EVERY LAST ONE OF THEM!"
Victini cried out, her eyes flashing.
"You're safe, though, and that makes me so happy! I thought...I thought-thought..."
Victini then ran at me, jumping into my already outstretched arms. "Aw, mommy wouldn't leave her little babies all alone." I murmured soothingly. "I promise I'd fight to my last breath."
"Touko, I'm so sorry."
Samurott whimpered, giving me a pleading look.
"Don't hate me for losing to those snobs, please? Pretty please?"
"Sammy, I don't hate you." I cried out, giving him a stern look. "That was NOT your fault, and I will NEVER blame you for it, promise!"
"I told you so, dumbass."
Haxorous mumbled haughtily.
"Hax, don't call him a dumbass." I scolded him, smiling.
"Hey, Dawn! Red! Paul! Professor Oak!" A feminine voice called out, somewhere from behind me. Turning around, I watched as a woman with brownish hair walked to to us, hand-in-hand with a man whom had green hair...oh, god.
"May!" The woman (who I presumed to be Dawn) squealed out in delight, before rushing over to her friend and hugging her tightly. "Oh, hi Drew!"
"Hi Dawn." Drew smirked, running his free hand through his hair. "Hey Red, hey Paul."
The two men greeted him back with a smile, before going over to chat. I felt...at the moment...so utterly alone. I knew none of them, yet my saviors all seemed to know each other; I only had my pokemon.
"Touko!" A voice called out in happiness. "You made it here okay!"
I knew that voice; the blond hair woman walked over to me, a big smile on her face.
"Cynthia!" I cried out, before placing Victini on the floor and wrapping my arms around her tightly. "What're you doing here?"
"Well, as you know, I'm not from Unova." She explained, wrapping her own arms around me and rubbing my back soothingly. "I'm from Sinoh. When I heard of Unova's downfall and all the hype about the missing hero, I knew Alder'd probably sent you to Jhoto. So, I left before they could confiscate my pokemon and traveled out here to help you out."
"Oh god." I whispered, my eyes brimming with unshed tears. "You did that all for me?"
"Of course I did." She whispered, patting my head with a smile. "Now, since everybody here probably has a really wrong idea about how you lost the final battle, how about you tell them what really happened?"
"Pfft." Paul scoffed. "She lost. End of story."
"Yes, but it was due to the fact Ghetsis is, indeed, a cheating b*****d who got his stupid goons' pokemon to use lightning bolt on my Samurott from behind me. There were more than a dozen of them, too." I told him angrily, fed up with his arrogant attitude; it reminded me too much of Ghetsis.
Needless to say, they were dumbfounded.
"He...cheated?" Red asked, sounding angry. "
Cheated?
"
"Where the hell is his pride?" Paul asked, sounding pissed off.
"Non-existent." I told them, staring at my pokemon whom were playing just a few meters from where Cynthia and I stood.
"Oh, god...Leaf..." I heard Dawn murmur.
"They captured her." Cynthia informed them sadly. "Using them as bait."
"THEY WHAT?" Everybody but Cynthia and I yelled, everybody sounding pissed off.
"Who's Leaf?" I asked, lost and confused.
"Your mother." Cynthia told me before anybody could attempt to stop her.
"Eh?" I was shocked; my mom? Wait...that meant...
"THOSE BASTARDS CAPTURED MY ******** MOM?"
"Yes, Touko." Cynthia sighed. "Don't go rushing into this, though. It's the exact opposite of what she would want."
"Red, I think, before this conversation goes any further, it'd be best to tell her who you are." Professor Oak murmured, giving the man a meaningful look.
Red, sighing through his nose, nodded, before stepping forward. "Touko, I...I'm your father.