Mama Mangle
(?)Community Member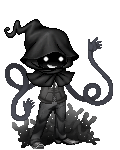 Posted: Sat, 04 Feb 2012 01:16:35 +0000
I live my life, one day at a time. A good portion of those days are uneventful, always falling in the same routine: I wake up, walk to work, work, walk home, then bum around until I go to bed. Some times I'll hang with my few friends, while other times I'll just play video games or watch My Little Pony: Friendship is Magic. Every so often, something new and interesting happens: I meet an old friend, I find a dollar on the ground, or I get chased by a stray dog.

Living in a dying city isn't very fun or interesting. This city was once full of life and color, but now... now most of the houses are sagging, the businesses sit empty and abandoned, and several open fields lay barren of the once great factories that helped drive the economy. I had never seen this city during those times in person, but I have seen pictures. My mother and father lived happy, and they could only wish the same for me growing up.

Sadly, I cannot say I have achieved that wish of theirs.

I've fallen into the same dull routine: Wake, work, sleep, repeat. I do have some moments of bliss, but the daily struggles I go through outweigh the small moments of joy I have. My Little Pony has helped, but it's still just another thing to give my hopes up on. Every time I see the show, or one of the ponies on a fan site, I recoil a bit at the bright colors, the joyful faces of the ponies, and the peaceful scenery of their world. It's so hard to look at that beautiful world, having it so close to my grasp; I reach out to touch it's warm colors and bright, smiling faces of the ponies.

Only to be stopped by my computer screen.

I snapped back to reality. It gets to the point where I will simply shut down my computer and walk away. I do that a lot, especially after my parents death. I go for a walk. When I feel sad, I walk. When I feel tired, I walk. When I feel like walking... I walk. Walking has become my second life in a sense; I spend at least half my day outside along the crumbling side-walks and decaying suburbs.

I've seen people come and go. I've seen buildings torn down, burned up, or have so much graffiti on its walls that its original color is unrecognizable. I very rarely pass any other people on my strolls. Most people don't like to look at their once beautiful city, their homes or former businesses. I don't blame them. In fact I envy them. They saw this place with their own two eyes, seeing the buildings still standing tall and proud, the lawns freshly cut, the paved roads, and sidewalks still intact.

The only thing I've ever seen that even comes close is my mother's paintings, each of them colorful scenes of this concrete world. She started painting once everything crumbled beneath her feet, making the sad scenery before her look beautiful. Her masterpiece is of an open field that yielded a parking garage. Over it, she drew an amazing rainbow. My favorite picture. I guess that is part of why I like Rainbow Dash the most out of all the other ponies. Her colors, the amazing sonic rainboom, all remind me of that picture.