DeeCake-Chan
(?)Community Member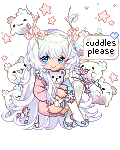 Posted: Sun, 09 Sep 2012 13:56:49 +0000
Life.. Laughter.. Love.. Regret.. Pain.. Death.. Revenge.. It's all part of a human's life, part of a shinobi's life, an endless cycle that everyone goes through in their life. Following the ninja way isn't always an easy task, but one learns to live with it and plan his life according to that. Every single ninja follows its own path and Yumi is one of them.

An inheritor of the Hatake name, the daughter of the great Copy Ninja, Kakashi, a name that is not easy to live up to. Yumi is the oldest kid of Kakashi, her sister being 4 years younger. Not only that, but she is also the host of the Two Tailed Demon Cat, Matatabi, the Nibi.

The views of people on Jinchuuriki hadn't changed much over the years, eventhough Naruto had proved that wrong, becoming Hokage like he always wanted to. Being a Jinchuuriki made Yumi's life hard and full of obstacles, but she always tried her best to overcome them. It was not known why Kakashi and Naruto agreed to seal the Nibi inside her, since they knew it would make her life a hell, but Naruto once told her that he had faith she could control his powers.

Yumi's childhood was a disaster. She was a fast learning shinobi, mostly because of her partner who was sealed inside her, but most said she was a natural talent. Of course, Yumi was picked on a lot and was always told that she didn't belong in Konoha, that she wasn't a normal person, a monster. Those words hurt her deeply and all that continued on until she graduated the Academy at 7. This was her first chance of proving that she could be a good ninja without the Nibi's help and she soon proved to be a respectfull ninja. Over the years, Yumi grew protective over her little sister, not wanting her to go through the same thing. She never noticed, but her sister always clinged to her tightly, acting all weird around her, especially when they grew older.

When Yumi ultimately became jounin, she had quite the reknown in the village and people finally stopped looking at her like she was a monster. Still, it didn't help that no one ever really loved her, that she didn't have any real friends.. That she had always been alone. Her father was gone so much that even he seemed to pull away from her.

At one time, Yumi had finally found her place within a team and became best friends with them. It was her life and she enjoyed it to the fullest, until one fatefull day, the team was ambushed by some A –and S-rank criminals. They fought like beasts, but it wouldn't suffice. Their Sensei was struck down and Yumi grew so mad, that the Nibi's chakra took over her body and ravaged in the area, killing each and every criminal present, but also… Her fellow teammates.. She had killed them and didn't even notice until Naruto came to seal Mata back in her. When seeing the remains of the battlefield and the bodies that were left behind, Yumi at first didn't understand what had happened. Naruto explained to her that she lost control over her tailed beast and had saved her team, but in the process, also killed them. She would never be able to forgive herself for what she had done and frankly, she wished she had died that day instead of her teammates. That event left a huge impact on her and changed her from the inside.
From that day on, Naruto had trained her in using her powers and thankfully, it was paying off. She could use the Nibi cloak partially, but it still needed some work. With the new threat lurking around, Naruto had to make sure the girl wouldn't be in danger if she would encounter someone on her own.

And so, Yumi tries to live a normal life, which is easier said than done.