Rose Strailo
(?)Community Member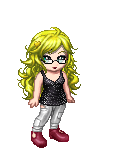 Posted: Wed, 02 May 2012 01:30:16 +0000
Hello! My name is Rose and this thread here is for all of my Drabble a Day entries! Let me give you a low down on how this will work and how it does work.

1) Wait...what the hell is Drabble a Day?

Drabble a Day is just that. You, the writer, write a drabble (which is technically about a 100 words but can range between 100 and 400 words before it becomes a mini story) each day for 1 year. For me, that means from March 26, 2012 to March 26, 2013, I will write a drabble for each day.

2) So how does it work?

You, the writer, can do this one of three ways. You can have a pairing or character for each day (or even a mix like me), or you can have a prompt for each day, or you can do a mix of characters and prompts. I have pairings with prompts myself but then again, I love a good prompt. As long as it's one to two words only.

So, I have about 5 or 6 weeks of prompts to post here. So give me a moment and I'll be all caught up and you won't see this bumped until I get a review. Or until I post the next set. Whatever comes first.

Week 1: March 26, 2012 to March 30, 2012

Drabble 1: March 26, 2012
Pairing: Aya/Brad
Title: Seeing Myself

Gazing at his reflection, Ran reached out and stroked over the mirror, violet eyes dark as he frowned. He could see his sister in his face. He didn't want to see his sister afraid that his lover saw her in him.

They had been dating for only such a short amount of time and his sweet sister was in a coma, a complication of a facial surgery to fix some imaginary problem. Or so they had told him. He didn't believe them. He thought that they had purposely messed up with her surgery, made it so that she couldn't wake.

Gazing over at his lover, Ran tried to smile at Brad, who just frowned and reached out to tug him close.

"I don't see her in you, Ran. You're you my little lover," Brad breathed into Rans ear, feeling the red head go limp in his arms, clinging to him. "Want me to call the lawyers and specialists?"

"Yeah, I do," Ran breathed, gazing at the mirror again and this time, only seeing himself.

Drabble 2: March 27, 2012
Pairing: Charlie/Harry
Title: Kissing Over Food

Shoving a bit of hair back out of his face, Charlie smirked as he watched Harry move around the Burrows kitchen, looking so natural it was scary. Molly cooed happily and pulled long, black locks out of the young mans way before leaving Harry to cook whatever he was cooking.

Shaking his head, Charlie stood and moved to stand near the stove, watching long fingers chop and transfer vegetables.

"What are you making?" Charlie asked in curiosity.

"Stew," Harry replied, Charlie looking over his shoulder. The younger male turned his head, accidentally brushing their lips together, causing a blush to spread over tanned cheeks. "Charlie…"

"I think…the stew can wait, yeah?" Charlie asked, pulling Harry closer to him, dipping his head for a proper kiss, giving into urges long building since he had met the Boy Who Lived all those years ago.

Drabble 3: March 28, 2012
Pairing: Sesshomaru/Inuyasha
Title: Beads of my Past

Staring out over the forest, sitting on a cliff as he tilted his head back to catch the wind in his hair, Inuyasha smiled softly to himself as he dropped another bead over the edge. The hunt for Naraku and the jewel was finally over, after so long fighting against the mad hanyou. Friends had been lost, mostly allies who had gathered after hearing of the fights against him, but the main group had walked away alive, if not disturbed by the darkness that had touched them during that time of their lives.

Sango and Miroku had finally gotten their acts together, getting married in a small ceremony lead by Kaede, and moved to Sangos village where other hunters had started to gather once more. It was doing well and had created many a truce between youkai and human.

Shippo stilled lived with him and was growing up into a fine kitsune, a fellow kitsune helping him train his powers.

Kagome had gone back to her time after the Shikon jewel had been purified and placed in Midoricos cave. She hadn't been back but Inuyasha felt that it was for the best. She wasn't made for their time, and she wasn't made to love a hanyou, much less anyone else not from her time.

Sesshomaru was still caring for young Rin and still followed around by Jaken, who was often punted by Inuyasha.

Inuyasha himself had fallen for his elder half brother, mating with the man and was happy with his small family. He had forgiven Sesshomaru his past transgressions as his brother had forgiven their father for falling in love with another woman and creating his mate.

Naraku was gone, everyone was happy and life was good. Inuyasha smiled again and let the last bead of his past fall over the edge of the cliff.

Drabble 4: March 29, 2012
Pairing: Aya/Farfarello
Title: Cave In

Staring at each other, Aya tapped his fingers against the bolder that he was using as a seat as Farfarello gazed back at him, vague smirk on his lips. Narrowing his eyes, Aya swiped blood red hair covered in dust out of violet eyes and crossed his arms as he contemplated homicide.

They had ended up in the same cave in after the so called client of Swartz had blown things sky high, to paranoid for his own good. That meant that their team mates were outside of the rubble and he was stuck with the insane Irish man who had a thing against God.

"Was that a tattoo I saw on your back?" Farfarello asked, Aya glaring before huffing. "It looked like an upside down cross. Why would you have that?"

"My lover, that's why. Shove it before I decide to create a new blood splatter," Aya snarled before looking over to where the client, Weiss' target, laid, blood spread over the wall.

"So strange to have such a thing on your back," Farfarello drawled. He fell quiet once more, a smile dancing on his lips as the rubble that blocked them from their team mates fell away. "I don't think I'll tell them about that. Such a desecration of the sign of Jesus is so lovely."

Drabble 5: March 30, 2012
Pairing: Harry/Bill
Title: Loving eyes

He had to laugh as Bill was taken down by little Elizabeth, the little girl looking more and more like her father with every day that passed, the large man laughing just as much.

Fluer had left Bill and her daughter when the sweet child had been 3, unable to withstand the fact that her husband was more wolfish then they had thought. It was a mutual split, or so they said, but to Harry, he didn't understand why the woman would want to leave such a beautiful child behind.

But to him, he had lucked out. After Ginny, he had never thought he would find love. But he supposed he had found love in the right Weasley, he and Bill having met soon after his own split with the youngest. Moving over to his step daughter, a child he considered his own, and his fiancé, he reached down and hauled the giggling 6 year old into his arms and tickled her as Bill sat up on his elbows and watched.

His love for his child and his mate shined brightly as green met blue and smiles spread further.