black_wing_angel
(?)Community Member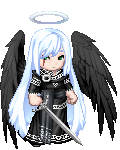 Posted: Fri, 13 Apr 2012 06:08:43 +0000
DlCK CATSTY
It was raining that day and Trayvon was walking around and so Zimmerman obviously found it suspicious that someone he didn't recognize was walking around the gated community in the rain especially in light of recent home break-ins.
Why would you ever wear a hoodie in the rain?
For that matter, who could possibly walk in the rain, and not fear melting?
Son, I've gone walking in the rain. It's not unusual. It's not suspicious. And generally, if I'm GOING to walk in the rain, I'd prefer a hoodie, to keep my hair clean and dry.
And how dare Treyvon commit the felony act of being black in a gated community? What was he thinking? Did he not read the minds of all the people in the area, so as to be aware of the recent string of criminal activity?
Quote:
It wasn't racially motivated,
You're not doing much to support that claim, Cochise.
Quote:
he had also called in on caucasian and hispanic people as well.
And that proves what?
Quote:
He wasn't a racist, he had even gone as far as organize a protest for the treatment of a homeless black man by police in the past.
Good for him. How does that prove anything, again?
Quote:
Whether he did anything wrong or not by following Trayvon is debatable,
Not really. It's illegal. He's neighborhood watch. Not a cop. He does not have the same authorities that a cop has. His jurisdiction ends with his property line. By following Treyvon, he committed the criminal act of stalking.
There's nothing to debate.
Quote:
and he did not simply follow him around and then shoot him like the media would have you believe and following someone in public is not against the law.
You sure about that?
Quote:
Attacking someone who is following you is, however.
I'm not so sure about that. If someone's stalking you, I believe the law allows you to stand your ground.
Ergo, I think you have it a**-backwards, buddy.
Quote:
A witness even stated he saw Trayvon on top of Zimmerman and went to call 911 while Trayvon was hitting him.
Witnesses have claimed they saw Big Foot in Yellowstone National Park. Your point?
Quote:
Now if you were a 5'9" and 200 pounds or so being attacked by a 6'0" 160 pound football player and the only way to protect yourself was to use your handgun before your attacker tried to grab it(which Zimmerman said Trayvon was trying to do) what would you do?
Issue a verbal warning, and attempt to get out of there. You know...what the law ********
REQUIRES
.
Quote:
Unless you're a bleeding heart that would gladly let your attacker bash your head in on the sidewalk (Zimmerman had a large bleeding gash on the back of his head when police arrived)
And yet, his clothes were Downy Fresh, when he arrived at the police precinct.
Police let you stop and do your laundry, now?
Quote:
while waiting for the police to show up, I think you would grab that handgun you're allowed to legally carry before your attacker does and defend your life.
Sure. But there's nothing substantial that's what happened.
Quote:
Either way one of them were going to end up dead in the confrontation and rather than try to stop it the witness left to call the police while Zimmerman was having his head beaten in.
Again, without any signs of blood. Was Treyvon a magician?
Quote:
There is nothing racist about this, despite what the media and the deceased's family are crying out to incite racial tensions.
Until you catch that part of the phone call where he called "them" "******** coons". That's pretty racist...
Quote:
Trayvon did not die with a bag of skittles in his hand,
Well, no. I imagine he dropped them, at some point. Probably about the point his hands were reaching for the sky, because there was a gun pointed at him.
Quote:
he died with his hands balled into fists that he was using to punch Zimmerman in the face.
And you have WHAT evidence of this? Also, I think if you're SHOT, your body is going to tense up from the pain. Incidentally, your hands included.
Quote:
Trayvon could have just simply run away
Sounds to me like he already tried that. Didn't work so well.
Quote:
instead of trying to act like a thug (he was already suspended had been suspended for being caught with drug paraphernalia at school, which is stupid enough, and certainly carried himself as one as his twitter showed)
Because "thugz" are the only people that deal with marijuana.
Nevermind the sea of white people who are anything but "street", that have attested to use of marijuana. But we can ignore that detail, for now.
Quote:
and attacking Zimmerman, or better yet he could have explained why he was there since he was spending his 10 day suspension living at his father's house.
Except that I'm pretty sure when there's a man with a gun following you, "explaining yourself" isn't exactly high on the to-do list.
Quote:
George Zimmerman was knowledgeable about who his neighbors were
Obviously not as well as he thought, if he missed that one little detail.
Quote:
and would probably have recognized his father.
So now he's robocop, with a digital index?
Quote:
Instead the exchange of words reportedly consisted of Trayvon asking if Zimmerman had a problem
I don't blame him. I'd be a little curious, myself.
Quote:
to which the response was "no" and then responded by saying "now you do"
[citation needed]
Quote:
and then punching Zimmerman in the face as his bloody nose would attest to.
I didn't see any bloody nose. Or any blood at
all
, honestly.
Quote:
To charge Zimmerman with second degree murder is downright wrong.
You're right. He should get first degree.