AsuraSyn
(?)Community Member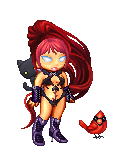 Posted: Sat, 16 Feb 2013 22:01:05 +0000
Michael Noire
AsuraSyn


Not exactly a "soldier" but regardless, a prime example of what it means to serve the whole.
Despite any romantic delusions to the contrary, there's only one requirement for a soldier: Follow orders. Obey.
Therefore, the ideal "ethic" of a soldier would be a complete lack of any ethical base and simple, blind obedience to the commanding power.


You are simply incorrect.
A clerk can follow orders and obey. A Priest can follow orders and obey. A Doctor can follow orders and obey. Not to get into a Socratic Dialogue or anything, but it stands to reason that following orders and obeying is an ancillary, and possibly optional characteristic of a soldier. Many soldiers are trained to disobey orders that would jeopardize the mission, the lives of their allies, or the ethics of the community that sponsors them. Some soldiers are voluntary and collectively gather under mutually agreed rules with little to no hierarchy. A person in a self regulated militia could be a soldier, just like a town's men and women being able bodied could gather their weapons together and manufacture additional ones to defend themselves against a foreign invader. All of these people, upon establishing a collective body of militarized opposition to a foreign body become soldiers.
Soldiers, at the end of the day, are warriors with a sense of Community connection in the form of patriotism, religious devotion, or philosophical dedication toward an end, where large numbers of them become organized as platoons, companies, battalions, and armies, with the potential for captains and generals and warlords as leaders, but not with necessity. All soldiers are not Samurai/Saburai who become something else/Ronin upon leaving/killing/losing their leader/Daimyo. An E1 on the field who witnesses the death of his Captain is no less a soldier after watching the rest of his allies die, as long as he keeps fighting till his time is up, till he makes it back to his homeland, or till the war is over. When his time is finished, it is finished.
Thus, a Soldier's characteristic by definition is not dependent on following orders.


A carpenter can cook his own meals, this does not make him a chef. Whereas a chef who cannot cook cannot be a chef professionally.
Many other occupations require obedience and the following of orders, but that is not the entirety of said profession. Soldiery is.
The idea that soldiers are simply combatants with an ideology of community can be undermined in one word, my friend: Mercenary. A merc is as much a soldier as a sworn commando, yet they simply sell their talents as a trade.
Yes, soldiers are given some guidelines about when to and when to not follow orders, however, almost every single time a soldier disobeys an illegal, corrupt or batshit insane order, s/he is invariably brought up on charges, even should the commanding officer not be.
In the end, a soldier is just a disposable person, used by the state or substitute authority, to gain political ends... just like the rest of the populace.