black_wing_angel
(?)Community Member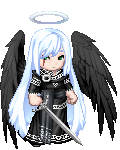 Posted: Sun, 17 Feb 2013 23:37:57 +0000
Exoth XIII
black_wing_angel

Meh. Too much work, for no more reward than we get.
Uh huh. See, if fighting the death penalty is 'too much work,' then you support it. Your inaction allows it to exist.
Of
course
I support it.
Quote:
Quote:

And who are you? One person with no power. You have an opinion that nobody gives a s**t about.
I am me. My power is that of my will, which is indomitable. I don't care if nobody shares my opinion; let's see them stand against me.
Seeing as how you're against any form of homicide, and your opponents...well...aren't. I don't think
THEY
have anything to be afraid of, in standing against you.
Quote:
Incidentally, the death penalty is already abolished in my state, so apparently someone shares my beliefs.
That's the death penalty. Not all forms of justifiable homicide.
Quote:
Quote:
Quote:
Quote:
I accidentally hit someone with my car? My bad, and I pay for it.
Bad example. That was a mistake, in which you had no intent to even hurt the person.
That's exactly the point I was making. That's an example of "negligent" homicide, which is still punishable, even without ill intention.
I'm not sure where you were going with this. Yes, negligence resulting in death should be punished, but certainly not via death penalty. What does this have to do with anything?
I didn't say anything about the death penalty, to begin with. If you've actually paid attention to the conversation you've butted into, I am opposing the idea that homicide is
NEVER
ok. There are times when homicide
is
legal, and perfectly acceptable. My opponent misrepresented my stance as being that ALL homicide is acceptable. So I clarified myself by stating examples of both, acceptable and unacceptable homicide. Negligent homicide is an example of unacceptable homicide that is not murder.
Quote:
Quote:
And my possessions, which are more valuable to me, than the life of a complete scumbag.
And there ya lost me.
Would you be willing to part with something with deep sentimental value to you? Let's say a family heirloom from generations gone by? How about a keepsake from a family member or dear friend who has passed away?
I wouldn't. I'll will not hesitate to spill blood for my prized memories.
Quote:
Quote:
Quote:

And yes, I believe I have a civil duty to protect what is mine.
Yeah? You don't. Again, EVEN IF you genuinely feel your stuff is more valuable than a life, that's not duty, that's you protecting your stuff. It's self interest. At least be honest with yourself, duty never was a part of this.
Civil duty. What is expected from someone in a given situation. I have a civil duty to protect myself, and my belongings, just as I have a civil duty to respect the law.
Quote:
Quote:
Quote:

They'll still call you a war hero,
Debatable. Also, "they" are frequently wrong.
Still, the honors that "they" bestow upon people, are legally accepted accomplishments.
Quote:
Point is, there are situations where ending human lives is not a criminal act, and to most of us, not viewed as a reprehensible act.
Don't care. "Most of us" are wrong.
Because you said so, right?
talk2hand