Aven Loreli
(?)Community Member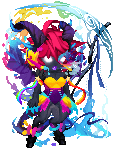 Posted: Sat, 05 May 2012 17:08:51 +0000
daChaosKitty
Aven Loreli
Well, good for your aunt. SHE can balance that. But not everyone is like your aunt. Not everyone can handle the kind of balance and sacrifice that's needed to have a child AND travel at the same time.

Stop using people like that as some evidence that EVERYONE can do it. That simply isn't true.

But what I'm getting at is how. is. that. selfish?

You've been stuck on the selfish thing, mainly because I think you're too blinded by your OWN kid/children that you can't/don't/won't see any other view on it.

Wanting to be YOUR OWN SELF and not being tied down to anything but YOU isn't selfish. That's just being human and one's own self.

A Child is NOT needed to make any one person's life fulfilled or have more meaning.

Every individual person has MANY a thing that make their lives have meaning and fulfilled, and for many of those people, just having a partner is enough. Or just having a job. Or just being single. Or just traveling. Or just disappearing from everyone and being completely alone.

It'd be unfair to THEM and any offspring they have if they were forced to have kids to, supposedly, make that life "less selfish" or "meaningful." In those situations, there'd be nothing but resentment and no child needs that in their life.

THAT, would be SELFISH.
Hmm, it would appear that we're getting defensive.
Really, anyone can do whatever they put their mind to. If people don't want to put the effort into it, well, then you get hopeless housewives whose entire lives revolve around their family. You'd be surprised what you can do if you put your mind to it.
Now, how is it selfish?
Selfish:
: concerned chiefly with one's own personal profit or pleasure.
: exclusive regard to one's own interest or happiness
: chiefly concerned with one's own interest, advantage, etc
Concerned chiefly with one's own personal profit or pleasure, refusing the "inconvenience" of a child because they are viewed as such. Exclusive regard to one's own interest or happiness, "I want to be my own self, not tied down to anyone but myself." To use your words, also an example of being chiefly concerned with one's own interest, advantage, etc. So, my use of the word is not wholly inappropriate, it just happens to be a word that you dislike.
Now, it is also selfish having a child when you know that they'll likely have some sort of genetic disorder, be mentally handicapped, and so on. In spite of understanding of such things. But, love is a selfish thing, be it love of self, love of children, love of significant others, etc.
As I have said, you're free to your choices, and I'm free to my opinions. Now... how to tie this back into breast feeding... ah yes, some people would suggest it's selfish to feed a child in public at the sacrifice of others' discomfort. However, as it is not a mother's concern for her self that is driving her to want to feed the child, but her concern for a baby, it really isn't selfish.
Nope.
I give up on you.
You'll continue to think ill of child-free persons because you refuse to see THEIR side of things and you'll continue to think children make EVERYTHING BETTER EVER.
Wanting to start MY life and live it how
I
want, even if that means that it'll only be me and my partner, well, apparently, I'm some sort of "scum" in your eyes.
I have nothing left to say you.