Aven Loreli
(?)Community Member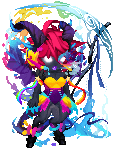 Posted: Fri, 04 May 2012 23:08:22 +0000
daChaosKitty
GuardianCentauri
I don't think it's fair to assume that everyone who chooses not to have children are selfish snobs or something like that. Perhaps some are, but in general I think that different people have different goals in life, different things that they want, different personalities, different lives that they envision living in the future, etc.

On the other hand, if part of this was sort of a reactionary response to some of the commentary in this thread that makes all children sound like some kind of horrible plague, then I sympathize. I've never wanted to have children myself, but I don't usually think badly of other people's kids or get judgmental or look down on others who have choosen to start a family. If that's what they want to do and is part of what makes them happy, then that's great. And besides, just because some of us choose not to have our own children doesn't mean we can't at least take some partial responsibility for others' children at times, like with extended family and society as a whole by supporting measures in government and in business that are family-friendly. ^^
I'm not suggesting that they're snobs. I'm suggesting that they're privileged. Not some, most, choose not to have children because they don't want to give up their lives like that. They don't like children for, generally, frivolous reasons. I've also found that most child-free people are only child-free for so long. Eventually, they, for lack of a better term, grow out of it, their biological clock starts ticking, or something.
It's not just reactionary to some of the responses here, but also vile, vitriolic hatred-spewing child-free types I've run into, prior, who call children "crotch droppings," "crotch fruit," "sprogs," "t**t turds," etc., refer to women with breastfed children, derisively, as "moos," and expect women with children to basically stay in the house to take care of them, because heaven forbid that children, or their mothers, ever see the light of day, let alone with each other. Forget "seen and not heard," anymore, children are expected not to be seen, period. And, this is purely a societal thing. The difference can be seen, especially, when you compare first-world societies with industrial, or third-world. Hell, the difference can be seen if you go through different, local, cultural circles. Children, at the middle, and higher (sans Hollywood), rungs of society, are often viewed as, potentially necessary, inconveniences. For example, childfree.net:
Quote:
We consider ourselves childFREE - free of the loss of personal freedom, money, time and energy that having children requires.
Sounds selfish to me.
I'm not suggesting all people who don't want children are privileged, but a majority are and just don't want children to screw up their precious plans. Children are "accidents," very often. My best friend's reasoning was family problems, and whatnot. She has recently changed her mind, however. Me? I've always been "mothering." In the end, I usually just resign myself to what I said, before. People who don't want children are just bloodlines that are intended to die.
On the other hand, children are part of life. I hate when people try to do away with them like they're something dirty, or evil, or disgusting. Like they're basically s**t, to be quarantined off to their own little corner of the cosmos until they come of age.
Quote:
Not some, most, choose not to have children because they don't want to give up their lives like that. They don't like children for, generally, frivolous reasons.
Once again, how is that bad or selfish?
I want to travel and get my career started. I can't do that if I have a kid I need to focus on.
Being an artist who's very much into character design/storyboarding/animation, a child would be too much for me to handle right now and be able to concentrate and/or meet deadlines.
It'd be SELFISH of me to have a kid right now, on horrid financial means and then to ignore it for periods of time as I work on my art projects.
Not to mention I have a short fuse and I like yell at annoying things that happen constantly. That'd be bad for a child.
Plus, I have NO intention of being a stay at home mom, which, for a period of time, I'd be and I HATE being cooped up like that.
I lose all kinds of motivations that way and get very meh and kind of depressed, to a certain extent.
A child doesn't need that.