Omorose Panya
(?)Community Member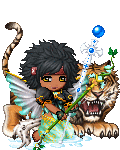 Posted: Thu, 19 Apr 2012 20:02:17 +0000
fubar0
Omorose Panya
fubar0
I find it funny how the default response to any one of your vague points is "comprehension fail". It's almost like you make points that you can make any number of arguments from just so you can say "LOL that's not what I meant, y u no smart liek me?!"

Yes I did have something useful to add, it got one reply and after explaining it again it went largely ignored. In before "cause you so stupid!"

I'd rather not waste my time making what feminists consider troll bait. In the end one of you three will come in and try to make it sound like what we go through doesn't amount to anything and call us misogynists, all the while trying to justify it by making poor one v.s. a million analogies about disease or murder.
Aaaand we're back to the point about determining if a label is warranted rather than complaining that it is used. If I must explain the
two
times I used it, which can be considered a "default" only by those who are terrible with math, then I will.
1) ExodusNirvana took Zin's words out of context---literally emphasized
half the statement
in two instances, which effectively changed the point---and attacked a straw man.
2) You keep complaining about things that
are not happening
and changing arguments. On top of that, you keep complaining about the labels people are giving to these actions. Sure we can stop labeling them, but that doesn't make the issues themselves go away. It's better for you all to, y'know, stop doing it in the first place. If you refuse, then stop complaining when people call you on it.
Sounds reasonable to me. Do you have an actual refute?
Which point was it?
Direct quote evidence
that has not been taken out of contet
(<--- back up if you missed that part) for the bold.
---This is where you, once again, run with your tail between your legs because you know damn well that there isn't any. But I'll humor you. Please remember that we expect you to back up your bull in this forum.
Good luck, child.
I guess the good point you asked for goes ignored again.
No we're not. I never said it whether it's warranted or not, no doubt there would be some men who actually hate women in there, I just said you would do it. Is that true or not?
When I said default you were not the only person I was taking into consideration.
The usual reaction to being taken out of context is usually to explain what you said better, so please do.
1. I never addressed this
2. where did I do this?
What point is that?
The issue is that you need evidence from the past to make that a worthy prediction. Otherwise, I'll say that I bet you're going to go up a some person, scream "Die f*****t!" at the top of your lungs and shoot them. It's okay because I don't need a real reason to predict this; I can just go with whatever pops into my head at the time.
You keep missing the point that it is
entirely dependent upon the content of the thread you make
, not the fact that there is a men's issues thread. If you end up making a sexist and/or misogynistic thread, then yes, I will label it as sexist and/or misogynistic. But my hope is that you
don't
make one that is either, hence the guidelines.
Um, no. The solution is for you not to take it out of context in the first place, not for me to explain it better; that is an entiely different issue. If you need me to rephrase, then ask, but first tell me what you do not understand so I know what you are referring to. As for default, okay, but who were you talking about then? I think I was the only one who said "comprehensionphail."
Regarding the numbers, I was explaining why I called each case comprehensionphail. They were not anything you had to respond to.