maleficars
(?)Community Member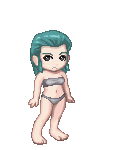 Posted: Tue, 01 Jan 2013 07:59:30 +0000
my issue with what you're saying is this: comparing the male dominance of cultures by how the women dress is hitting only a small point in the rather large spectrum of topics that need to be discussed to come to an actual, opinionated conclusion.

however, if you're going to say that we're oppressed because women are sexualized, you need to understand that all cultures sexualize women. perhaps not in the same way - most are, dare i say a lot less tame than simply having women dress in a revealing way - but throughout history, women have always been seen as a point of pleasure for males through sexuality.

let me ask you something, though. if we were truly sexualized to the point of oppression, would you have been allowed to dress in the less revealing way that you did during high school? perhaps you didn't have the best time, but you had a choice. you always had a choice. we are not sexualized to the point where the choice is being taken away from us. we can dress in as little as we want (save for full-on nudity, because that's illegal out in the open) or how much we want. it's a personal choice. it is not oppression.