black_wing_angel
(?)Community Member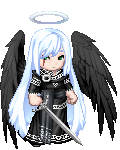 Posted: Mon, 08 Oct 2012 18:49:55 +0000
Macodrone

Regardless. The earth was not flat. It was never flat, and it will never be flat. There is a big big big big BIG difference between the scientific method. Hypothesizing that the earth was not flat, testing that hypothesis by sailing somewhere, Not dying, huzzah, proof!!
And
"I accept jesus christ as my personal savior even though scientific evidence suggests that prayers are answered about 50% of the time (funny that) and anthropology suggests that God is a man made construct."

You're not even comparing apples and oranges at this point. You're comparing a toilet to a submarine.


And you know something. You already know what it's like to not believe in a God, or a certain religion. You've been not believing in Zeus your whole life because Zeus is a silly god who turns into gold and impregnates people. You don't believe in Odin because he's a silly God who drinks too much and spends too much time around well muscled warriors who use too much body oil, also frost giants, wtf!
You don't believe in Pluto because how the ******** is a planet supposed to be a God and why is he telling me when to die LOL.
You don't believe in Luminos, the stripper Goddess who lives in the center of a hollow moon who generates moon beams of bliss via rhythmic pelvic gyrations because I made her up just now.
You don't believe in Paladine, or Lolth because they're charaters from books based on D&D and it would be ridiculous to actually worship them in real life (or at least super nerdy)

BUT
You believe in Jesus Christ who was said to have walked on water, lived in a giant fish, multiplied bread and fish, cured lepers with his touch, died, came back to life, rose up to heaven to wait for the apocalypse where he would return as Jesus 2 where all the righteous people in the world would be taken away to heaven for all eternity because he once died for your sins because some dumb tart in a garden 7000 years ago ate an apple because she was outsmarted by a talking snake.
This will be the SECOND time all the people on earth are killed by God by the way. Don't let me forget this one. After a whole bunch of shameful activities which would make Caligula blush God floods the earth, but swears off mass genocide until the end of days when once again humanity pisses him off by breaking 7 seals and this time he means it.
But that whole thing about the Minotaur being born from a woman who was seduced by Zeus into copulating with a bull? Yeah that's far fetched. God though, yeah. Don't piss that guy off.

If you applied the same logic and reasoning skills that you use to explain why Zeus and his strange sexual fetishes are illogical and at best interesting fables.
Why Odin, Thor, Baldor, Frig, Frija and frost giants are silly, and not worthy of being worshiped because you're the kind of realistic theist who need's his religion NOT to involve monsters from Harry Potter
And why you don't believe in all of those stylish but ultimately stupid Indian gods.
A
lot
of baseless assumptions there, kiddo.
Quote:
Then why can't you turn that logic towards your own religion which is just as silly as an elephant headed God, or a bearded spear wielding man who drank the mead of superpowers and hung himself upside down on a tree for a while so he could ride a horse with 8 legs and do battle with dragons.
You assume I haven't, based on what?
Quote:
YOUR RELIGION IS JUST AS SILLY.
In your eyes, I suppose.
Quote:
I know I only needed to give one example and yet I went on and on and on and gave you about 20 examples of how your religion makes as much sense as the above,

So in askance.
Where the hell do you get off believing in something so stammeringly stupid while trying to legitimize it by comparing it to Columbus.
U MAD, BRO?
Seriously, where do
you
get off trying to force people to believe whatever the hell
you
believe? You're trying awfully hard. Does it really kill you that much, to let someone believe an alternate idea than you do? Were you touched in a bad place by a priest, or something?
Regardless, the fact of the matter is, that many of the scientists that you look up to, are actually religious, themselves. Science is not the enemy of God. It is his tool. Perhaps when we learn how the world around us works, we're not learning "why God didn't do it", but
HOW
God did it.
There is absolutely no proof, either way, on the existence or absence of a deity. This is why there isn't yet a definative answer. You can sit on your high-horse and pretend you have all the answers, and s**t on anyone who dare believe something you don't, all you want. But the truth is, you don't actually know. You may not believe it's possible for you to be wrong, but then...most people who ARE proven wrong, never thought they could be.
But, in the end, you believe what you do, and I believe what I do. We both have our reasons. Simple as that.