Keltoi Samurai
(?)Community Member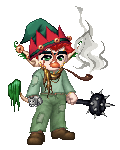 Posted: Sat, 28 Apr 2012 17:11:47 +0000
Blind Guardian the 2nd
Keltoi Samurai
Blind Guardian the 2nd
Keltoi Samurai
I can agree on the religious part, at least, which is especially sad considering the long history of scientists being men of God ( though, the Church does have this on-again/off-again love affair with burning said scientific men of God as heretics ).

still, though . . . calling out people for expressing their Constitutional rights is kinda not a good thing to be doing when you're gunning for a job dedicated to protecting and upholding said constitution.
I'd say that's down to a long history of the majority population being men of God, whereas since science killed God, the opposition has arisen.
I don't recall "gun" being mentioned anywhere in the Constitution.
Science has not killed God, as Science is the understanding of the Natural World, and God, by it's very definition, is a supernatural being, thus existing outside of the natural world, thus existing in a realm that science can make no comment on, one way or the other. the only reason the scientifically minded say "there is no God" is the same as the reason the religiously minded say "because God said so," specifically: they are afraid to say "I don't know" where people might hear them.
the US Bill of Rights includes the Second Amendment to the Constitution, which covers the right to keep and to bear arms.
now, unless you contend that "arms" meant something other than "weapons," a la Family Guy, then those as cling to their guns are just exercising their constitutional rights, as are those that cling to their God or Gods.
I meant that science has mostly obliterated the Judeo-Christian God as He exists in the Bible. The natural world He supposedly created has been investigated to the point that it now defies scripture: scripture that is the only communal access to the Divine. Saying that the Judeo-Christian God is beyond the natural world is rather spurious considering the natural world depends upon Him, if one takes a theological approach. In fact I consider that a very poor dichotomy to use to support your argument.
I'm not afraid to say "I don't know for certain if there is a God", because no empiricist should be. However, I can also say "I have been presented with no evidence that causes me to believe in the existence of God", and that is empirically correct, and the result of contemporary science, for all aspects of the natural world that might have been associated with the Divine are now explained through other, testable means.
No, I contend that you are entitled to "weapons", and that what sort of weapons one is entitled to is a question of interpretation. So to profess that to keep guns is a Constitutional right depends on a very specific interpretation of weaponry.
yes, weapons. at the time, that meant muskets, as muskets were what the people were understood to be allowed to keep, and also happened to be the pinnacle of man-portable military grade hardware.
so, from that, it's pretty safe to infer that in a world where the pinnacle of man-portable military-grade hardware is the musket, then by putting muskets in the hands of civilians shows a clear intent to give them access to the pinnacle of man-portable military grade hardware, correct?