I am SWIM v2
(?)Community Member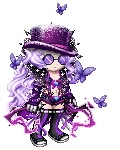 Posted: Wed, 18 Apr 2012 04:10:24 +0000
My friend is going to come down to visit me in October and she'll be around for Youma Con. We're planning on going to all three days of the convention and we want to, of course, do three different costumes. We figured out what we're doing for the first day, but we can't come up with something we'd both be willing to cosplay from for the other two days. Enter this thread...
So I'm Hayden...There's pictures on my profile, but:
Pic 1
Pic 2
I will cosplay from pretty much anything. I like to get into new things so if I don't know it so long as the character looks interesting enough, I'll do my best to get into whatever he/she is from. I will cosplay from anime, manga, video games, tv shows, books, movies, comics, music (like bands or something), blahblahblah. Anything. I like to try to look my best when I cosplay things so I like to find someone I can possibly pull off well.
Height: 5'6"
Restrictions: too skimpy clothes...preferably no short skirts or tight clothes either.
What I will do: cut hair (within reason), dye hair, wear a wig, wear contacts, crossplay (I love crossplaying), waste massive amounts of time getting everything as right as I can get it (or, y'know, just buy a costume if I have to)
What I've cosplayed before/What I'd rather not do: Naruto, Bleach, Full Metal Alchemist (already done), Death Note, Chobits, pretty much anything that's been done to death and you're guaranteed to see six billion of at a convention. I've also done a Steampunk thing but I don't think it was very good and I'm always willing to make the costume better (I just didn't have the time or much money).
She is Jo.
Pictures:
Pic 1
Pic 2
She prefers to cosplay from strictly anime or manga though might be willing to do something from a video game and maybe a comic series (though probably not unless it's Batman).
Height: 5'3"
Restrictions: No contacts
What I'm Willing to do: Wear a wig, dye hair, weaponry (within reason)
What I'd rather not do: The typical cosplay (as mentioned in Hayden's section)
------------------
We'd like to go together...Like from the same thing with two characters that "go together"...-not sure if making sense-