Surgical Heart
(?)Community Member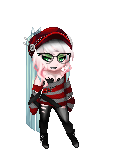 Posted: Sun, 25 Nov 2012 11:07:21 +0000
KyaKonami
Captain Talavar
Cora Merle Seraph
Captain Talavar
KyaKonami
I haven't read anything but the ministory with Joker and Harley at the end, since a friend scanned that part on her tumblr page. So I can hold my opinions on the main part of the story for now.

The ministory was creepy, and I'm not sure what to think about it. I am glad that Harley has changed outfits, I just don't get the tux. Another thing is Harley being in fear. This is a plan to kill the Bat Family, correct? Harles would be thrilled to help Joker do that, especially Batman, since in her mind he's the one thing between her and Joker's official happy ending. She acts like she doesn't really want to be around him, or go through with his plans. Yeah, I get he's supposed to be even crazier, but he's gone overboard before and she didn''t sway. But Snyder said he's pro-J/HQ so I'm going to wait and see what he has in store.
You must not have read the whole thing. The tux was just part of her disguise in the original Red Hood outfit that the Joker wore prior to him becoming the Joker. It was all a gag, to trick Batman into thinking it was the Joker in that old getup instead of Harley. The joke was ruined when Harley took off the red hood and talked to Batman herself.
As for Harley and Joker's relationship, the problem is that there's a HUGE misunderstanding of it among fans: it is not a relationship of two people mutually in love with each other, who happen to be psychopaths. To the Joker, Harley is just a toy he can amuse himself with, a puppet to control for fun. Harley is the Joker's victim, brainwashed by him into being like some Manson girl, into believing that he really loves her and cares about her even though he only keeps her around for amusement.
The Joker has gone after her many times before, and the fact that she keeps coming back is hilarious to him. Take away the mass murder and the clown makeup and what you have is the standard tale of a naive young woman brainwashed into thinking her abusive partner actually cares for her, and no matter how much he uses and abuses her, she keeps going back. It's like something out of the Maury show.
But, thanks to
misaimed fandom
, people seem to think they actually have a nice relationship, and are shocked to see Harley fear the Joker (which she should because
he's the ******** Joker
) and to see the Joker treat her this way (which is entirely in character because
he's the ******** Joker
).
Well stated and accurate about the ol' J n HQ relationship
wink
It's the truth. Some people have this idea that their relationship is genuine, even romantic, but it's not. It's awful. It's a madman and his brainwashed victim, not a pair of lovebirds.
Truth to you perhaps, but I see it in a totally different light. I have never heard a pro J/HQ person ever say their relationship was "nice." It's quite clear it's not peaches and cream. It's twisted and downright disturbing at times, yes. But the thing is, Joker doesn't like to repeat his jokes. So there would be no point to it. At all.
Not to mention Paul Dini, Bruce Timm, Mark Hamill, and quite a few other people have stated that there is care there, but it will never ever be shown in a normal way. It's going to be twisted. And to pull out more specific things:
In Emperor Joker, he was planning on an Armageddon. Destroying things completely, flat out murder people. Harley asks him about it and he explains it to her, and she asks if she counted for something, after what they had been through together. His response: "You kooky kid, c'mere," kisses her, and makes her a constellation, saying "I always wanted to see my Dame in lights" Well, we all know simply sparing someone isn't his style at all. And if she's just a play thing, and a puppet, why would he even bother with that?
Seen Here
And Here.
And in the episode
Harlequinade,
not only did she kick the crap out of him, she legit tried to kill him. It was only a fluke that the gun turned out to be one of the bang guns. And clearly, Joker was impressed by her having enough balls to try to kill him. Not to mention
Joker's Millions
where she clearly beat the crap out of him with that club and he looks genuinely afraid of her with that thing. Not to mention in Harley and Ivy he couldn't do much without her, got jealous when he saw the news of her teaming up with Ivy, and sought her out himself because he wanted her back. Harley knows he's a psychopath, she knows all of this, but he's her Joker. She doesn't want him any other way, because there was in fact an issue that came out where Joker was pretty much sane and she hated the affection he showed her-buying her things, giving her flowers, etc-so she went as far as to flirt with Batman to get him back to his old self again.
See it your way if you want, I'm not here to change minds. I'm just showing my stance on the situation. And I still don't think a plan to cut Batman down to size would scare her. She clearly states in Mad Love that Batman is determined to make life miserable for the Joker, which is why she can't stand him. So any amount of pain Joker or anyone else would inflict upon the Bat would be okay with her. And has nothing to do with being for or against the pairing.
I love that there's a divide between Joker and Harley Quinn now. I cant wait to see their relationship completely fall apart and have Harley strike out on her own for good.