QueenTroll38
(?)Community Member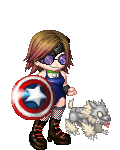 Posted: Sat, 24 Aug 2013 00:12:07 +0000
oddlyalli
QueenTroll38
oddlyalli
So is the Roger's warden kind of a Space Privateer King, hired by the...Parliament of the Galaxy, or something like? In which case, is this a government-made pocket dimension, or is it a full-fledged universe that someone discovered? Or is SPK touched in the head to do good, or just removing the competition? Lots of questions about a side character/origin, sorry. But he sounds fascinating.

It is to be unexplained why Badger has the same name as his Terran look-alikes? Fine with me. "Came from" meaning he was born in the Roger, and is very dangerous because of his parents and/or environment, or meaning he was detained there some amount of time ago? Do you mean for his key to be unrelated to the rest of them or dual purpose? And by anti-hero do you mean you're setting him up to be a/the villain, or an anti-hero, which is kind of a bad/normal guy who happens to be working with the heroes for his own reasons?
to be honest, I haven't got to that deep of a detailed development yet. those are good questions and I probably cannot include all that in the first chapter, but sure will be in the chapters to come.
I plan to par the badger character with a human partner, probably a girl since that is the trendy match for most bad-a**/goody-two-shoes pairs in pop media (Bioshock 3 would be a great example for references) About his personality? He's a cold-hearted killer with no intends to do good. However, he's not willing to owe anyone any favs. He always repays his debts.
Well, thanks; I hope you get a chance to answer them, at least in your head. More questions: How did a goody-two-shoes get in the Roger? Is she actually well-behaved, or more just the cheerful one you have to watch out for? You know you don't have to keep with the trendy, but it's looking like having a girl partner might help even out our gender representation.
And I didn't so much wonder about Badger's personality, but the role he'll play in the comic. Will he be an antagonist, or are his goody-two-shoes going to walk him on the straight and narrow? (Thanks for the info, though.) And about timing; our first plan was for each of the characters to be unlocking, as a group, one large thing at the end of the first chapter. You have Badger just entering the same dimension as the rest of us then. I think it could work quite well if we have two or three short sections before everyone meets, but that's something that does need to be planned and decided as a group of artist/writers.
the girl will lead him straight.
hmm, i have a really good idea about the character development now, let me post the first chapter here and see if you guys like it. i would probably need about a month to get it start.
but to see if you guys like my format and art style i will do a random sample page first.
also, about the charity thing, how would that work? would people pay to read our project?