Elder Father7
(?)Community Member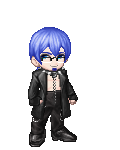 Posted: Sun, 19 May 2013 04:13:54 +0000
Hello, so before we get down to business let me explain a bit about my project, my goal, and myself, not in that order however.
My first name is James and I am a Film Graduate of the very prestige's University of Full Sail University. I have Written a few scripts here and there. I've worked on many projects in many positions. However when it comes to Drawing i have what most people would call... A SERIOUS PROBLEM, unfortunately my hands dont work normally like others, Not in a 'omg i cant do anything' but more of i hold things awkwardly, have issues using my hands to grab things and have many issues trying to write without shaking or not being able to make a line or circle, straight or round, possible.
Where i fail in drawing i succeed in writing, i pride myself on a good script with a relatable story and characters while providing a moral, a progression, and a path for everything having rhyme and reason as much as possible. Now we can get into the business part a little.
For the last year i've been working on a script, rewritten a few times to get it right, or as flawless as possible while still telling the story i want. Now i LOVE anime and Manga, and i love the style because it makes me feel wonderful.
The idea of this project is an 8 episode Manga/Animation of sorts, I'm making it more like a classic japanese game where you have the Sprit movement screen and a Still Image Conversation part when the Main Character Interacts with someone in the episode. Now of course this isn't a game, its a Story Animation. I plan on doing 8-12 Episodes for a Season but i have written a 2 part pilot to get a 'Test Audience' to find if i can Produce a great story that will cause the audience to leave wanting more and talking about it 'round the water cooler' if you will.
I've written the first half and currently writing the 2nd and so far my Critiques have been well and im wanting to start on the next phase which is finding a Artist. This artist must have his/her own style of drawing, be able to be PROFESSIONAL and ON-TIME. I need someone I can trust and make sure that the work on their end gets done on production time.
Now im sure your wondering if this is paid or not, Well due to Gaia's TOS i can't legitimately say. HOWEVER the pilot is the first thing i need to find an artist to do and if the Show takes off there is a likely chance of compensation to be discussed.
Again Compensation can be Discussed AFTER the pilot is produced and if it is a Success to a Audience and the Requirements are met.
anyway the Requirements will be posted below.
So heres the Review for those of you who skimmed.
Artist Needed for Manga/Animation (animation is not the Artist responsibility)
Must Be able to be Professional and On Time, I am a serious producer look for the best of the best workers who can work with me without incident. (of course besides the human error at times)
Possible but not confirmed Compensation. Those who are asked for a 2nd Interview will find out more.
Requirements
1. Must be 18 + (sorry, theres no such thing as a bad artist or being to young but for Security reasons of compensation i cant hire minors for this job)
2. You have to have a Portfolio (2 Professional Photo at the Least) of your work.I need to see your style. The more the better off you'll be.
3. Someone who is willing to work for Free for the Pilot Episodes (2). I ill compensate if this Series turns out to be Popular enough to gain a respectable Fandom who is willing to donate money until a Partner is willing to pay for the show itself. Power of the people.
4. I need Full Sized, Full Colored (shading and highlighting) characters, The character needs to have emotion in his face, and his look will reflect that to.
5. If you can do backgrounds i am also looking for you, i need original art and backgrounds, while easy to obtain for me, is more respectful if i can get someone to design a room, a environment, and a background/foreground.
Those are the Basics if you have questions please Message me further under the title
~Artist Reply~
or
~Artist Questions~
Again please have a Sample of your work, the more professional you are the better your chances.
this is going to take time for me to reply as i only come on once per day and this is not my only posting. Please make sure you reply with the title above ~Artist Reply~
Thank you for your time.