Ophelianime
(?)Community Member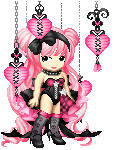 Posted: Fri, 06 Jan 2012 21:48:21 +0000
This is a collaborative effort between myself and four other gifted individuals
I will post the members in just a minute, although I will keep you guessing as to who wrote what whee
The Creative Team
cara_fairy

killah cupcake

Ophelianime

JasperSethK
I"d also like to point out that whenever the story changes perspective, it changes color as well

so without further ado, part one
Sound does not travel through space.
It also doesn't travel well through plexiglass.
Maybe that's why no one heard her scream.

Lt. Saber, the youngest man to be in charge of a sector, looked out the window just in time to see the tumbling, orange-clothed figure of a little girl. Without a second thought he released the airlock keeping the window shut and dove after her. Her death would not look good written in the Mother Ship's log.

Lieutenant Claymore Saber was among the first of several lucky babies to be born on Mother Ship Zephyr. That was 26 years ago, 26 years into the 40 year trek to Planet X. He'd never known Earth, his home planet. All he knew of it was from picture books, encyclopedias, and the intricate biospheres on some of the main ships. He knew there were deserts and oceans, criminals and scholars—but he preferred life as he knew it, delicately balanced here in space. Here, alone. That's why he was made Lieutenant. No knew more or loved Mother Ship Zephyr's inner workings and past than he.

Lt. Saber caught the tumbling girl by the back of her suit and hugged her to his chest. As he cushioned her and rotated his body into the proper falling position, he wondered what she had been doing in the rainforest biosphere.

The two landed lightly in some dense undergrowth. Lt. Saber yelped and leapt up as though they'd landed on hot coal. The girl squealed in surprise.

"What in Zephyr's name were you thinking!" He snapped. They'd landed on and crushed a delicate yellow flower. What if the scientists had been planning to use that flower to pollinate Planet X? What if he'd just jeopardized the whole mission just to save this little—

"It's a pretty flower, isn't it, Mister?" The little girl picked the yellow flower up and tucked it into Saber's shirt pocket. "Thanks for saving me…but I always fall here. It's good practice. Y'see I'm learning how to climb properly so I can—gee, you don't look too good." She smiled, revealing she was missing her two front teeth. "Cheer up!"

Lt. Saber took a deep breath, clenched both his teeth and a fist then exhaled. "Thank you. It's very nice. You can't climb here anymore."

"Aww, why not?" A quick glance over the digits on the little girl's uniform identified her to him. She was Caucasian, about 7 years of age, and from the engineering district, ship #47. No doubt she'd been training to climb ships. One day she'd probably be repairing the ship or inventing some new mechanism to terraform Planet X. It wasn't her fault she'd fallen—but it was a problem that she was in the wrong location at the wrong time.

"If you want to practice climbing, you should go to the recreational areas." He put his hand around hers and guided her to the small airlock which connected this biome to the residential ships of people indigenous to it on Earth. "Now you just have to take the airship #4, yellow line, okay? Then you'll be home." He pointed out the route to her on an overhead monitor then helped her board.

After the little girl's departure, Lt. Saber looked down at the flower in his pocket and half-smiled.