RebelTea
(?)Community Member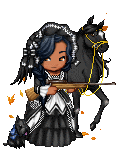 Posted: Fri, 11 Jan 2013 17:42:29 +0000
THE COLORS

NOTE:
The Colors is not only a roleplay but a user based story that will be turned into a novel.(All users who participate will be added as an author on the cover of the book/ and are knowingly allowing their writings to be published.)
THE STORY
(Based off a dream I had)
The world that you know is nothing but shades of black, white, and gray. (Based in a futuristic United States, run by a socialistic and oppressive Government.) Color was removed from the world in a means to establish equality and peace. However, 5 years after color was eradicated from the earth, woman began to give birth to babies with color(EX: Red hair, blue eyes, painted fingertips). The Government in an attempt to keep peace, began to kill all babies born with or able to produce color. But soon the Government discovered that random individuals began to produce color. These individuals and people born with color are deemed Colors and are hunted down and killed by the Shades. The Shades are a group of elite assassins who are trained to hunt down and kill the Colors. They are ruthless, inhumane, and dangerous. The Shades and the Colors are at constant war with each other in an never-ending battle.
Which side will you choose?
The Colors



As a Color, you are considered an enemy to peace and are hunted down constantly. You are always in danger of being attacked by the Shades.

Abilities

You have one particular color that you can produce. Anything and everything you touch will temporarily turn into that color and can be used as a weapon. Example: Let's say that your color is pink and you are confronted by a Shade. You can touch the chair next to you, watch it turn pink, and then you can turn that chair into any weapon you want. So let's say you turn it into a pistol. As long as it is being touched by you, it will not go back to its original color and shape until you let go of it.

Weaknesses

You are still only human, which means you can die. So just keep that in mind when dealing with Shades or anything dangerous.

There are no limits to how many Colors there can be. Just keep track of what color somebody is so that you don't choose the same color.


The Shades

Abilities

Shades have the same ability as the Colors except they don't have a color. They only have shades of black, white, and gray.


Weaknesses

You are still only human and can be killed just as easily. keep that in mind when dealing with Colors.

Weapons

There are endless weapons that can be created and endless objects that can be manipulated.

However, you can not make a nuclear bomb, or anything that overpowers your enemy to a ridiculous level.



Keep in mind: This is a SERIOUS roleplay. This roleplay and the entries written by the members within will be turned into a novel. You can joke around but you must always stay in character. The skies are the limit when it comes to story, enemies, friends, and obstacles.
Just have fun with it.



RULES


1. There will be no disrespect of any kind
2. Always stay in character
3. No sexing however, for literary reasons, you can imply that sex did occur between you and another member as long the other member agrees.
4. Don't join this roleplay of you are not serious, this is a long term commitment. If you can no longer participate, then please kill off your character. I will be keeping track of the story and everybody and would hate to just have a character who just disappears. Plus, when this is published, you wouldn't want a reader who has become attached to your character to be disappointed when their favorite character is suddenly gone.
5. All entries must be at least 2 if not 3 paragraphs and must be written properly. ( No text like entries: Those will not be accepted)
6. If you are going to interact with a member of the roleplay, whether it be an enemy or fellow member: Please quote them. So that they know that you are interacting with them.
7. Do not quote this. Just reply and enter in the form along with your first entry.
8. Have fun.

Note: This is a 1-2 year long roleplay. Time may be shortened or extended depending on number of members involved in the story.
Note:
All character must be made from the Tek Tek dream avatar. Why? I plan on getting artists to draw every member's character(Therefore, I want you to create something original/ no internet found pictures/ only your originality).

If you are a Color, your character should be dressed in their color, If you are a Shade, your character must be dressed in black, gray, and white.
Form:

Username:
Character name:
Which side are you(Shade or Color)?:
If you are a Color/What color are you:
History:
Special Note(Something about your personality):
Character picture:


Statement: I (insert username), allow my entries to be reproduced in a book. I also recognize that I may or may not be compensated depending on whether the book receives any money.

Signed,
(Insert username)

(Your probably wondering why I need you to post that statement. Because I will be using your entries in a book. I want to be able to credit you and add you as an author. This book will start out as none profit but if it becomes popular, I want to be able to give you your share if it makes any type of money)
Once you have posted your form, you may begin with your entries.
You must write in first person and the entry must be 2-3 paragraphs long. It can be longer if you want.


Please remember to have fun and if you can no longer add to the story, please kill off your character. If you are going to take a break from the story, put your character into hiding(If you put them into hiding, you must add a half paragraph entry every few days stating how your character is doing in hiding.)


Because this is for a book, I will be adding in chapters. Chapters will consist of up to 20 entries. If you are new to this project and want to join when it is very far along, please read all the other entries. I will not have somebody disrupting the storyline or the flow of the story that the other members of created. You must know what is going on before you can join.



Note:

Please read all the other entries before you post, make sure that you keep track of the others. We are all in this story together and what happens to the other members or what they are doing my affect your character. We all must be every intertwined and in-tuned with each other in order to produce the best story possible.


You may now become apart of the story.