Sexcess
(?)Community Member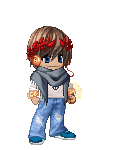 Posted: Fri, 27 Feb 2009 00:24:04 +0000
Hey everyone, it's Jank! If you know me, you saw my thread back in the gaiaversary. Unfortunately, it looks like our fun has come to an end. But I don't want it to end because it's been so great to meet new Gaians and wonderful 03ers and up! It's been a wonderful benefit and opportunity to meet some kick butt people like you all! I have a list of people who I would like to thank with all my heart!! Here's the whole original post!!!
Hey everyone, first...Please do not quote the first page/post!
First, since you made it here, you should totally comment my profile! =D
Now...
My very first time on Gaia was actually July 15th, 2005. The day of my Dad's birthday, haha. What are the odds of that?
What year did you join?! =]
So yea, for all those awesome oldies, this thread's dedicated for you[I know for me, 4 years probably isn't that long for most people... -shrugs-] but for the people who've been here since 03'/'04, you rock and you should chat here and such. I will be giving out gifts and such to people for chatting and staying active. So have fun! =]
P.S; It's not JUST for 03 or 04 people, but for everyone! It's just more dedicated for them since they've been here so long! :]
Thanks for making Gaia so fun! =P
Anyone who donates 1 token or more goes HERE
OMG guys this list keeps getting bigger and bigger and I seriously did not expect all these people to give me their tokens! YOU ARE SO AWESOME! And thanks SO MUCH!!! I can't thank you enough and I just can't believe how generous ALL OF YOU have been! You guys deserve every bit of thanks for doing this!
Cool people xD

Saintasha - 125 tokens heart
ActressForLife - 1,160 tokens, 12 purple daisies, 9 yellow daffodils, 7 white daisies, 8 sunflowers, 6 pink daffodils, 7 pink carnations, 8 white carnation, 5 red dragonflies, 11 red butterflies, 7 yellow butterflies, 3 green dragonflies, 6 grasshoppers heart
Inari Beads Expert Bella - 125 tokens heart
Joshy1572 - 205 tokens heart
Cuatela - 1,000 tokens heart
B Simone - 715 tokens heart
Flicker Chan - 100 tokens heart
TashaBlue99287 - 1,025 tokens heart
Shizuki_Heart - 1,211 tokens heart
SammomTresed - 4,500 tokens heart
~Immortal Crow~ - 2,000 tokens heart
FlyingDemon - 500 tokens heart
Confessor Creamette - 3,000 tokens, 2,000 tokens, Leviathan's Grace [Chest], Leviathan's Grace [anklets], 3 Aquarium Earths, Aquarium Background [I heart Fish], 2 pink ink, Aquarium Fountain, 145 crumpled green construction paper, 94 crumpled newspaper, 13 crumpled paper bags, 51 dirty crumpled newspaper, 400 tokens, Black Retro T.V heart
GoGoSakuta - 3,084 tokens heart
Xx0neWingedAngelxX - 625 tokens heart
Sweet Miss Nicky - 2,188 tokens heart
Haliaetus - 400 tokens, 5,205 gold heart
Poison Toxic Cookie - 123 tokens heart
PowerGuy208 - 1,000 tokens AND 100 tickets heart
Ateirm - 2 Starfish, 1 Sunflower, 50 tokens heart
a k i r a OTOUTOxx - 3,566 tokens, 606 tickets, 1,000 gold heart
SongxOfxSwords - 390 tokens, 257 tickets heart
LunarArson - 1,377 tokens heart
xM-inuyashagal-Mx - 20 tokens, basic fishing rod, 10 tokens, 200 tickets heart
Master Travito - 10 tokens heart
BeautifullyExecuted - 1,080 tokens, 199 tickets heart
Dr. Dazzle - 60 tokens heart
animeangel_99 - 784 tokens heart
Di3S3L - 1,337 tokens heart
Hatty-Queen-814 - 30 tokens heart
KiKi Avelan - 1,000 tokens heart
Redneck in Pink - 285 tokens heart
Chordie - 5,000 tokens heart
emo angel142 - 545 tickets heart
Jen-Anne - 445 tokens heart
smielybunny - 100 tokens heart
BabyKakes69 - 703 gold, 105 tokens, 100 tickets, 108 yellow daffodils, 21 bachelor's credit, 281 crumpled newspapers heart
tHe_tRax - 1,904 tokens heart
Ophelia Atwater2 - 1,000 tokens, 117 tickets heart
Eds911 - 1,072 tokens heart
Blaze_Keys_of_Faith - 600 tokens heart
Belinda-Hime - 1,000 tokens heart
Darkest Strawberry Angel - 500 tokens heart
Jiggly Gigolo - 74 tokens heart
Krazie_Kitty_Kiilala - 75 bachelor's credits, 103 tokens, 1,175 tickets, 200 gold heart
Anonymous Benefactor [I still don't know who it's from!] - Seeing Stone heart
Lychii - 2,135 - heart
Sakari_Paradox - 4,000 tokens heart
vidgamergal - 100 tokens heart
popeyemark - 1,899 tokens, 1,769 tickets, 51 crumpled newsprint, 36 crumpled paper bags, 20 crumpled blue construction paper, 320 crumpled green construction paper, 19 dirty crumpled newspaper, 20 crumpled red construction paper, 16 crumpled zerox paper goldenrod, 51 crumpled newspapers, 11 old crumpled newspapers, 35 crumpled zerox paper blue heart
cettie_girl - 777 tokens heart
Lady Rai - 500 tokens heart
GuardianAllieKat - Turquoise Matte Wall Tile, Holly Hairpiece, spirited 2k7 jeans heart
Dragona_Soluna - 238 tokens, Blue Paper Cat Band, Dirty Newspaper Combover, Fresh Grass Hat, Newsprint Fro, 7 crumpled red construction paper, 76 yellow daffodils, 30 pink carnations, 9 yellow inks, 4 fishing nets, 29 pink daffodils, Black Retro T.V heart
hellomotto22 - 10 tokens heart
Faydra Alexandria - 250 tokens heart
Sasori-no-danna242 - Fitted Red Top, Red Octopus [On my Head], You Are a Cow, 2 Sunflowers, 35 tokens heart
meline01 - 250 tokens, 250 more tokens, 250 tokens, 250 tokens heart
crayz_peepoles11 - 200 tokens heart
mewhorse - 1,246 tokens heart
king_moonlight - 1,364 tokens heart
gog1245 - 98 tickets, 360 tokens heart
rabitgrl - 425 tokens heart
Haruka_Akaboshi - 1,235 tokens heart
theprincessofdarkeness - ELF; 2 terminal cleaners, 4 score doublers, 1 super power stabilizer, 2 super terminal cleaners, 9 power stabilizers, 3 sunflowers heart
flyleaf princess - 15 tokens heart
the demonic soul reaper - 3 blue ink, 1 black ink, 3 brown ink, 3 green ink, 1 gold ink, 2 yellow ink, 1,777 gold heart
EcoGeek - 1,630 tokens, 265 tickets heart
SickestKidd - 587 tokens, 44 tickets heart
xrevolver.kissesx - 300 tokens, 1 red ink, 1 orange ink, 1 green ink, 1 white ink heart
SRBall - 125 tokens, 21 crumpled newspaper, 60 crumpled newsprint, 21 crumpled paper bags, 14 dirty crumpled newspaper, 34 crumpled zerox paper white heart
soccerskate123 - 400 tokens heart
Dazed Moon - 1,000 tickets, 15 master's credit, 98 bachelor's credit, 1,348 tokens heart
Seraph Angellus - 792 tokens, 50 tokens heart
Swimfan120 - 1,000 tokens heart
Rose9245 - 2,285 tokens heart
ErikaGibbons - 3 blue ink, 8 green ink, 10 brown ink, 6 white ink, 16 yellow ink, 6 red ink, 5 gold ink, 2 pink ink, 6 black ink, 65 tokens, 210 tokens, 20 white daisies, 6 purple daisies, 2 white carnation, 8 pink carnations, 2 blue daffodils, 4 yellow daffodils, 17 brown beetles, 1 pink ink, 1 gold ink, 4 black ink, 2 red ink, 12 crumpled newspaper, 11 crumpled blue zerox paper, 17 crickets, 8 green crumpled construction paper, 8 cicada's, 9 yellow butterflies, 9 house flies, 1 yellow ink, 1 blue ink, 95 tokens, 7 crumpled white zerox paper, 7 green dragonflies, 24 old crumpled newspapers, 32 crumpled red construction paper, 31 crumpled zerox paper goldenrod, 555 tokens, 10 yellow butterflies, 10 crumpled blue construction paper, 16 purple daisies, 10 red butterflies, 12 grasshoppers, 12 brown beetles, 11 yellow daffodils, 10 white carnations heart
sweetally4 - 330 tokens, 1 yellow ink, 2 purple daisies, 1 pink daffodil, 1 yellow daffodil, 1 white carnation, 3 yellow butterflies, 1 house fly, 1 dragonfly, 210 crumpled newspapers, 50 tokens, 19 old crumpled newspaper, 9 crumpled paper bags, 18 crumpled newsprint, 26 crumpled Zerox Paper White, 20 crumpled green construction paper, 9 crumpled red construction paper, 28 crumpled Zerox Paper Goldenrod, 1 White Carnation, 2 sunflowers, 2 cicada's, 1 cricket, 1 white daisy, 1 yellow daffodil, 2 green dragonflies, 125 tokens, 2 fireflies, 3 sunflowers, 2 pink daffodils, 1 red dragonfly, 1 green ink, 1 yellow ink, 2 crumpled red construction paper, 2 grasshoppers, 1 brown ink, 2 pink seedkins, 1 brown pebbo feeder, 1 blue ink, 1 yellow ink,1 crumpled newspaper, 1 crumpled old newspaper, 1 yellow daffodil, 1 white daisy, street fighter IV megapack, Regalia of Ancient Fire, Leviathan's Grace [anklets], spirited 2k7 boots, Langer the Dragon Plush, Purple Matte Floor Tile, 125 tokens, 1 purple daisy, 1 dirty crumpled newspaper, 1 cricket, 1 sunflower, 5 Grade F Fish bait, 1 blue seedkin, 1 purple daisy, 2 red crumpled construction papers, 1 crumpled newspaper, 2 sunflowers, 2 blue crumpled construction papers, 2 pink seedkins, 5 yellow daffodils, 5 pink carnations, 1 crumpled zerox paper blue, 5 pink daffodils, 1 green ink, 3 crickets, 1 house fly, 5 cicadas, 1 green crumpled construction paper, 1 dirty crumpled newspaper, 2 white carnations, 3 grasshoppers, 4 green dragonflies, 3 crumpled zerox paper white, 640 tokens, 1 red beetle, 2 brown beetles, 3 red inks, 2 crumpled paper bags, 5 red dragonflies, 3 red butterflies, 3 fireflies heart
Omoi De Iru - 12,000 gold heart
Royal_Rhino - 490 tokens, 695 tickets heart
10 Dollar Bagel - 832 tickets, 917 tokens heart
PoisonedPocky - 538 tickets, 250 tokens heart
-x-Eryk-x- - 1,000 tokens, 1,075 tokens, 9 bachelor's credit, 1,515 tokens heart
SweetHeartValley - 190 tokens, 2 yellow butterflies, 1 red dragonfly, 1 pink daffodil, 1 crumpled paper bag, 1 cicada, 1 yellow ink, 1 yellow daffodil heart
Plunger Man - 313 tokens heart
RubberDuckie865 - 35 tokens, 100 gold, 15,994 gold heart
xXSmexii_EmoXx13 - 584 tokens heart
Chiaki88 - 1,000 tokens, 815 tickets heart
JapaneseKariOut - 5,636 tokens, 1,974 tokens heart
ArtisticCupcakes - 492 tokens, 4 brown ink, 3 yellow ink, 1 green ink, 1 blue ink, 37 tickets, 1 blue dragonfly, 28 pink daffodils, 155 tokens, 2 red ink, 4 blue ink, 4 brown ink, 5 sunflowers, 1 pink carnation, 51 white carnation, 14 blue daffodils, 10 blue daisies, 215 tokens, 1 yellow ink, 31 tickets, 2 blue inks, 1 green ink, 2 black ink, 2 brown ink, 475 tokens heart
Clone123 - 250 tokens heart
AndresOrtiz_York - Red Octopus [On my head], Dragon Tail, dragon plushie, Sonic Knight Buddy, Greco Roman Top Olive heart
TheLich - 1,000 tickets, 1,000 tokens heart
xXMeinuraXx - 10 tokens, 8 yellow daffodils, 4 white carnations, 3 sunflowers, 7 crumpled blue construction paper, 3 blue daffodils, 3 blue daisies, 4 dirty crumpled newspapers, 4 crumpled zerox paper blue, 6 crumpled zerox paper white, 2 pink carnations, 2 purple daisies heart
JadeSiebzehn - 28 tokens heart
B1ack_H4wk - 131 tokens, 4 crickets, tangled Christmas lights, bulls eye shirt heart
Kitteh Princess - 1,000 tokens, nurses hat heart
SparkNova - 310 tokens heart
Vaginal Splinters - 955 tokens heart
Queen Peppermint - 1,500 tokens, 368 tickets heart
T3h Urine Infection - Flower on my Head, 4,000 tokens heart
Mark as Unsafe - 176 tokens, 100 gold heart
theycallmesilver - 1,571 tokens, 13,270 tokens heart
Adorable Lunacy - 429 tokens heart
B00_2 - 15 tickets, 10 tokens, Bulls eye shirt, 2 tan peasant gloves, Olive Matte Floor Tile, 150 tokens heart
beatlesgirl - 105 tokens heart
tecoo123 - 50 tokens heart
Sujung118 - 1,212 tokens heart
-C00KI3 M0NSTAR- - 1,000 tokens heart
Cataclysmal Shadow - 260 tokens heart
xXxSweet NitemarexXx - 210 tokens, 75 tokens, 120 tokens, 150 tokens, 75 tokens, 45 tokens, 70 tokens, 25 tokens, 160 tokens, 60 tokens, 80 tokens, 440 tokens heart
Relentless_Sin - 5,170 tokens heart
bluedragon87 - 1,365 gold, 1,000 gold, 140 tokens, 50 tokens, 1,392 gold, 1,071 tokens, 170 tokens heart
Geatrinia - 800 tokens heart
unknown girl1 - 974 tokens, 569 tickets, 1 black ink, 3 blue ink, 2 brown ink, 2 red ink, 5 yellow ink, 6 green ink, 1 dirty crumpled newspaper, 5 crumpled zerox paper goldenrod, 3 crumpled blue construction paper , 6 crumpled red construction paper heart
Kitteh Princess - 425 tokens heart
xChaotic_Heartx - 150 tokens, 170 tokens, Angel Wings Back Tattoo, 100 tokens, 5 crumpled newsprint heart
_ Ch0pStiK _ - 85 tokens, 1 cricket, 1 crumpled paper bag, 1 crumpled zerox paper goldenrod, 1 big old tire, 1 brown beetle, 1 house fly, 1 yellow butterfly, 1 old crumpled newspaper, 1 black pebbo feeder.
emo puppy 1 - 280 tokens, 70 tokens heart
unwritten_melody17 - Blue Solar Flare Belly Tattoo, Aquarium Cuttlefish, Banana Split, 65 tokens heart
Br0kEn FaTe - 465 tokens heart
DewDrops101 - Chubby Chicky, Cutie Chicky, Baby Chicky, 4th Anniversary Blue Roman Candle, Basic Yellow Flippers, Yellow Candy Stripe Stockings, Sky Blue Tavern Wench's Blouse, 750 tokens heart
LovableCupcake - 30 tokens heart
Kaiya of Wind - 932 tokens heart
x_Angelic_Kiss_x - 860 tokens, 745 tokens heart
Daneil_D - 1 blue ink, 20 tokens, 2 crumpled zerox paper white, 8 purple daisies, 8 yellow daffodils, 8 white daisies, 4 sunflowers, 17 pink carnations, 4 white carnations, 4 brown beetles, 6 old cans, 5 crumpled zerox paper blue heart
MariaEstela - 70 tokens heart
GangsturrLuckyCharmed - 732 tokens heart
Erykus - 590 tokens heart
Toshirou Hijikata - Heart Antennae Ball, 4,220 tokens heart
RangerZone10 - Nautilus, 600 tokens, 10 tickets, 20 sunflowers, 1 stem, 52 cicadas, Human's Makeshift Shield, 33 Crumpled Blue Construction Paper, StarHat, Lidless Demon Armor(chest), Clock Egg, Skittles Crazy Core Face paint, 200 gold. heart


Please don't bug these people for donations. They have donated items out of the kindness of their hearts, and they didn't even have to! So please, don't bug them for their stuff. heart You guys are so sweet!
Just so you know, if you send me a trade with something no matter what it is, you WILL receive something back. I feel if someone is sending you something, you should always send something in return! Even if it's not HUGE... heart heart


Hey, what's up? If you're here, then you have officially taken another step forward to preventing cardiac arrest.
You should add me since you're here, and comment in my profile.
'Cause I like bottled water.


rofl