asdfghjkl123asdkma
(?)Community Member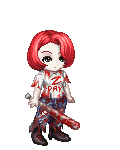 Ruthless Vampire
8,750 Points
100
Posted: Thu, 16 Aug 2012 06:11:46 +0000
I've heard many people had problems properly installing the free horror game, Ib. This game is wonderful and is worth the effort to download it. Here's a guide on how to install it.

Just a quick note: This is EXTREMELY confusing. Especially if you don't know what you're doing.



Step One: Download the game (click here) You'll notice it won't let you open it right away, but don't panic!

Step Two: Download WinRAR (click here). This program will 'unlock' Ib so you can play it.

Step Three: Now that you have both files on your computer, open up WinRAR and locate the Ib.rar file. This will usually be in your 'Downloads' folder.

Step Four: Click once on the Ib.rar file, then click 'Extract To' which is close to the top of the window. Choose where to extract the game to (I recommend your desktop. Easy access) This process can take a while, depending on your computer's speed.

Step Five: If the file has been successfully extracted, it'll tell you. Go to where you put the new folder and look for a file labled 'RTPMaker'. Open this, and after a very short wait, a small black box will appear reading 'RTP has already been registered. Press Escape to quit.' Press Escape on your keyboard.

Step Six: Go back to the folder you extracted the game to. Double click on the file 'RPG_RT' (the one with the thumbnail, not the document) and it'll open the game! emotion_awesome

Step Seven: If you quit the game and choose to continue later, repeat steps five and six.
NOTE: In Episode Two (the part of the gallery that's red), you will find a book that is labeled the 'Moving Storybook'. It will give you the option to read it or not. If you open this book, the game will crash. You didn't download anything wrong, this is a problem with the entire English-patched game (the original is Japanese, if you didn't know). If you choose not to open the book, you will be able to progress further into the game.