B R A I N
(?)Community Member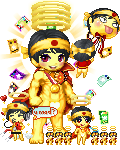 Posted: Wed, 30 Oct 2013 17:55:50 +0000

CONGRATS WINNERS (PAGES 596, 602-603)
Yeah giving away Panda Hat and Red Mini Wings.
Panda Hat will be raffled out by Christmas (or a day or two after).
Also, my friend lI_DeVoN_II will be giving out Red Mini Wings on December 23, 2014 (via T I2 I S T A N)
NO LONGER ADDING ENTRIES... RAFFLE WILL BE DONE IN A DAY OR 2 --- JUST KEEP A CLOSE WATCH ON THE THREAD
HOW TO GET RAFFLE ENTRY FOR PANDA:

To get raffle entry for panda hat, you have to worship, adore, praise and love BRAIN. Below are samples on how you can achieve this.

- Making threads about BRAIN and tell everyone how awesome he is (I must notice this on my own)
- Dressing up as BRAIN and join avatar arena (I must notice this on my own)
- Provide non-pixelated offerings like poems, arts, sign pic, songs, videos for BRAIN (this must be posted in this thread to qualify as entry, and I have to notice it by accident, not because you told me so)
- Post random message how you love BRAIN in this thread (I must notice this on my own)
- Use the GIVEAWAY banner as your sig - must be for morethan 24 hours to be considered
- Entries may be void if I catch you badmouth BRAIN, no brainsphemy shall be tolerated emotion_awesome
Panda Hat winner will be decided based on Random Number Generator. So get as many entries to increase your chance.
HOW TO WIN RED MINI WINGS:
- Red minis will NOT be raffled out, but will be from
lI_DeVoN_II
's Paper Bag Sign Contest.
-
To learn more, please refer to 4th post or click here
.
OTHER MINI GIVEAWAYS AND RANDOM GIFTS:
Me and my friends may randomly raffle out, or run small contest to give out some cool items during the life of this thread (or until we get to the two grand prize PANDA HAT and RED MINI WINGS)!!!! Also, expect a few gifts handed out by BRAIN, so make sure to enable your gift receiving. The gifts are random, and without warning (may also be the outcome of your awesome entry).
BRAIN'S MINI PRIZES GIVEAWAY TICKER: (random gifts and mini contest prizes)
Total Estimated Worth of Items Given Away Since November 4, 2013
113, 400,000
IMPORTANT NOTE:
- NEVER quote me, PM me, or comment me of your attempts to get entry - if you do this, you will NOT get an entry (ex: BRAIN i posted at page 1337, BRAIN here is my PM with doodle of you)
- I must notice your "entry attempts" by chance, not because you or your friend directed me to it
- If I didn't notice your attempt/s, try again
- If I notice you multi-times because you made multiple entries... means you gain more entries, so more chance to win
- DO NOT SEND ME DONATIONS! I don't need pixels. I do love THE TROLL, but giving me one doesn't guarantee an entry
- DO NOT SPAM/BUMP this thread with irrelevant senseless crap. I like when people converse, or adore me - because I am BRAIN.
- This contest was made possible due to the encouragement of
lI_DeVoN_II
, hence he is giving away RED MINI WINGS.
SPREAD THE WORD:


[url=http://www.gaiaonline.com/forum/chatterbox/t.88711377/][img]http://img844.imageshack.us/img844/6416/6ftn.png[/img][/url]

DISCLAIMER:
I can cancel giveaway at any time, due to things that may or may not be under my control.