Mushi
(?)Community Member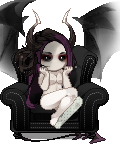 Posted: Mon, 04 Jun 2012 13:40:02 +0000
Avatar: Pocahontas ripoff, badly done too, they went all out graphics and failed the rest.

Top Gun: Overrated manloving on screen.

The Godfather: I've tried SO HARD not to fall asleep during either movie, I fail everytime.

Pulp Fiction & Kill Bill: Uma Thurman ruins movies, end of discussion. Kill Bill is neato for the rest... but she kills not only bill, but the entire movies.

Expendables: Terrible flexing from Sylvester Stalone, it's a movie about how "awesome" this old guy is rather than about how awesome action heroes are, which it should've been about.
He really is expendable.

Twilight: IT IS ABOUT FAERIES! Anyone trying to pass this crapstick as a Vampire is... there's not even a word for it.
And besides that - It's terrible, I laughed in tears the first time I saw the entire movie cause I felt like shooting myself.
The other times I had to show it to my guy and a friend, I just blankfaced.
It'd be a better movie if they hadn't tried to pull off the "I'm a faerie trying to be a Vampire"-bullshit, and that's not saying it'd be a good movie - just better than frog turds.