Skabro
(?)Community Member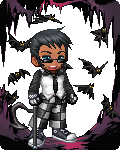 Dapper Raider
2,950 Points
200
Posted: Fri, 05 Oct 2012 11:02:15 +0000
Smiling Anon
Sera reached out, hovering her arm for only a few hesitant moments before placing her hand in yours. She glanced back at Persephone, who was already busy maneuvering herself to provide the most protection for both Ska and the little girl.
"Go with him, Sera. I'm not asking." Persephone called over her shoulder to the little girl, grabbing the wrist of a statue and tugging it violently to draw attention to herself. Sera wasn't sure why she was so inclined to listen to this woman's order, nor why in the world she knew what her name was, but Sera did listen. She let herself be tugged away.

((Mmm. I can do the Ska/Sera RP with Ska and make a separate one with Aphie-shi's statues/Persephone. Sound okay, you two? ))

=Taking the hand of Sera, he pulls her up and holds her much as one would hold a toddler, her arms around his neck.=

Hold on tight, little one, this won't be easy.
=He holds her close to him as he feels her small arms wrap around his neck. Swinging his broadsword, he clears away the legs of a severed statue and then crushes another, letting bits of stone fly against him and the girl. He dashes past the rubble heaps and through a doorway nearby. In the dark room he looks around for movement, but sees none. Taking a quick breather, he lets Sera slip from his arms down so her feet once again embrace the ground. Looking her in the eye he says, firmly again:=

Little one, you will be save here, I will guard the entrance. You must hide and not move from that place until I come and find you myself, is that clear?
=Just as he finishes saying this, a statue appears in the hallway muttering something about a pet and it's mistress. He doesn't heed anything the statue is saying, as it is hardly audible anyway, sending his sword through the head of the statue, then thrusting it through it's chest, pinning it to the wall. As the headless body writhes for him, he grabs a heavy chair and swings it around his head, smashing it into the body of the stone being, crushing it and the chair to pieces. He pulls his sword from the wall and glances at Sera, nodding his head.=
Hide little one, hide!
(Sounds good enough for me, but I dont know how much longer I will be here.)