KooHoo-P
(?)Community Member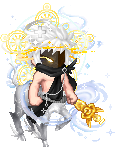 Posted: Mon, 26 Sep 2011 11:04:47 +0000
Thank you all soo much for the Gaimanitarian award!
heart

Song of the day -
10/17/2013
(I feel old
crying
)
Question of the week: If you could, would you be a congressman? (Think hard about this one)
My Answer: No, I feel as though despite how adamant I am about how much change we need in this country my words will never be heard.
Check the second post for contests!
Here's a video of me shooting a shotgun one handed despite my friend telling me strictly NOT to do so.
After he told me not to I went up to shoot next as we were taking turns. In the video I was telling him to get closer to me to get a closer view. I wanted to make it look like I wanted a close-up but I really just wanted him to clearly see me shooting one-handed to hear his reaction. Good times...
15 Million Gold Giveaway: OVER
Here's the deal. The economy is kind of ******** so I feel I had to up the prize. Also, I'm way long overdue for a contest/giveaway. I leave for boot camp in about 3 weeks, and I want to do something special for you guys but will also bring in enough people to keep the thread alive while I'm gone for 2+ months. I don't know when I'll get access to a computer of my own again, but I'll estimate it'll be around February of 2014. So this is my wish to you all, please stay active in this thread while I'm gone. When I come back I'll do my best to be on everyday (hoping that I don't get shipped to Iraq or anything, then my plans will need some tweaking). Anyways... I'm going to give away a 10m gold prize to a not-so-random person, and 5m to another person. Just be active, and if I choose you, then I choose you. I'm hoping to give it to a newcomer though, or anybody really. This thread needs the activity. I'll also be handing out donations periodically. So yeah... Let's make this thread active again! Just chat with anybody, please share art/hobbies/music/philosophies/etc. I want the conversations to be as colorful as possible! I hope to see you guys around!
EDIT: Oh! I should mention, I will give away the 15m gold before November 2nd. (I leave November 5th)
10m: Sinister_Bunneh
5m: Floni

U P D A T E



I've graduated bootcamp and I'm stationed on a land base. I'll be around for a while.


A B O U T

_

ME
Updated: I am a 23 year old man. I spent a year studying at the University of Nebraska Omaha under a physics major, but due to financial issues could no longer pursue my degree. Whilst and before the latter, I had worked many jobs from customer service, to fast food, to roofing labor. So I've been around, and now I've joined the NAVY with the endeavors of bettering myself as a person and broadening my horizons. I have recently graduated bootcamp and now I'm stationed on a land base near Charleston, South Carolina to study nuclear science. I don't really play video games much anymore, but if you'd like to, you can add my XBox Gamertag: DOC oSPADEo, or find me on League of Legends, my summoner name is: KooHooP. This charity has been around for a while and I plan to keep it around as long as I am on Gaia. Thank you for reading.
(Note: This section used to be a lot more colorful but I've just lost some enthusiasm lately)
I love talking about music, science, philosophy, video games and anime. Be careful with the latter though, I'm a very picky person, and I tend to go over some rather controversial topics when discussing my favorite anime.
For anime my top 5 are:
1. Mahou Shoujo Madoka Magica
2. STEINS;GATE
3. FMA: Brotherhood
4. Black Rock Shooter (2012)
5. Cowboy Bebop
6. Bakemonogatari (Only for Ep. 12)
7. Naruto: Shippuden (I've only seen episodes about the key moments. It looks good though)
8. Code Geass: Lelouch of the Rebellion R2
9. Dragon Ball Z
10. Slayers (It was a retro anime so it was a tad nostalgic, but it was very funny)
My most favorite pianist is TAM. My most favorite song-writer is Conor Oberst.
Examples of my Piano Playing
My very first charity thread

To display the current status of this charity
Charity Funds

2,500,000,000 gold