Freekee
(?)Community Member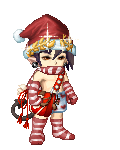 Posted: Thu, 17 Jan 2013 01:33:15 +0000
Welcome to ☆ Freekee's Quest Thread 崮rz ☆
→ Introduction



Hello everyone ! Welcome to my charity/quest thread.

Update 24/02/13: Going on hiatus again. ( So this thread is temporarily close. ) Will be more active around June/July.

Update 13/02/13: People seems to be confuse about my thread, I'll make it more clear :

This is a charity thread. It's not really a quest thread since I

don't

really need help.

If you give me an item, I'll more likely to give it to someone who post in my thread or just trade it.

If you are questing a 1st gen. and I have it, I'll trade it for a lower gen.

Profiteer please GTFO

.

But if you are truly questing ( Big quest ), I will gladly donate and help.





Make sure you read everything in the first post or you won't receive any donation.




Learn to ******** read for Pete's sake. Stop PM'ing me and ask why I canceled the trade.



Hope you are having a good day/night so far. I'm really nice but I can be really unpleasant when people abuse my kindness.
I have been playing Gaia since '07 and my main goal is to quest all the items from my wishlist. ( Please see post 3 )

This thread is not only for my quest, but everyone can also get a chance to get a donation.


I love to donate

. I have a too big inventory & I'm too lazy to sell and why not give it out? I gotta need to clear my mule's inventory too ...
I just have that bad habit to collect items.
This thread is basically 80% charity 20% for my quest.


I adore to work and earn by myself the golds to buy everything from my wishlist.



However, I will not gift anyone anymore because a lot of people are being a jerk and don't even say a simple 'Thank You'.
I am fine if you hit-and-run. I'm a pretty chill guy and everyone have a chance to get a donation with 1 post.
If ever you got picked ( because you posted in my thread ), you have 72 Hours after I sent my trade and to write on my profile or send me a PM
or just simply post it in this thread and say 'Thank you for the donation/trade' or something like that, if not I will cancel the trade.
If you don't accept the trade within 5 days, I'll cancel the trade. ( Even if you said thank you. Tho usually you would just accept the trade right away rolleyes
If you had any problem IRL, I will just gift it to you. )
( It's also very annoying to have a lots of trade pending especially when I exchange a lot. )

That apply with the contests too. I am not obliged to reward you if you don't respect this gold rule.
If you have skipped this part then too bad. You'll get nothing. No matter how nice you are even if you end up hating me, I will not accept the trade.
If you think becoming my friend will increase your chance to receive something, you are wrong.
I rarely donate to my e-friend unless I have known you for over a year.
If you do, I feel like I have to accept it but you definitely have decreased your chance to get stuffs by 90%. If i'm the one who sent it, it's a different story wink
Make sure to put what you are questing in your signature or somewhere in your post.