UnicornCommando
(?)Community Member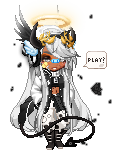 Posted: Sun, 11 Nov 2012 06:18:04 +0000
Welcome to my Quest thread,
I'm still in the process of improving this thread so please bear with me.
You can stay and bump If you really don't want to talk with me
crying
It's okay.
I understand.
Please don't forget to
the thread!
Sincerely,
VDE

*Rules*
~Please follow the ToS
~Do NOT quote anything from the front page
~Be respectful to everyone within this thread
~Please don't advertise anything of yours in my thread, signatures are fine but not in a post
~Please don't ask or beg for donations
~General chat is much appreciated. Bumping is allowed
~no Pming me about the items I sell. I set them at the Lmp.
~Please take the time to spell out all of your words. It is really hard for me to understand the text lingo now-a-days.
~I have the right to change and/or add rules to how I see fit in my thread.


Table of Contents
Intro to Thread....
About Me
....
Previous Donators
....
Donate-es
....
Banner(s)
....
Currently Questing
....
Finished Quests
....
Selling
....
White List
....
Black List
....
Affiliates
....
Links
....
Art
....
Contests
....
Reserved