Wardwood Mule
(?)Community Member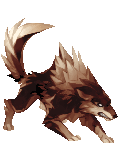 Posted: Thu, 01 Dec 2011 21:54:07 +0000
By the arrival of Samhain, hunting season is in full swing in Sunderland. Nobles don their fine new jackets, mount their purebred horses, and go chasing after foxes in the Wardwood, though this year the turnout is somewhat less than usual, and more than one hunter has been observed leaving a circumspect offering at the edge of the trees.

Meanwhile, construction on the new Warden grounds continues—and months have passed with utter silence from the Wolves. Rumors abound as to the reason why; some say Gwyn is still recovering from the musket wound he sustained during the spring equinox, or that Llyr has managed to forge some kind of unsavory bargain, or that the Wolves are simply biding their time until winter, when they will once again be at their strongest...




1. Fox hunt game — October 22-31
2. Storytelling contest — October 22-31
3. Hunter horse "auction" — October 25-26
4. Kingshawk companion flaffle — October 24
5. Autumn-themed flatsale — October 29
6. Advertising contest — October 22-30
7. And more to come — October 31

Unless otherwise stated, each event ends at 11:59 PM EST.
If you're having time zone trouble, here's a

converter

you can use!