Sosiqui
(?)Community Member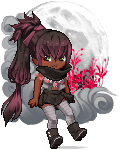 Posted: Sat, 20 Feb 2010 01:29:47 +0000
It hadn't been very difficult for Phaedra to divine Jin Huang's location - a few well-oiled palms here and there assured a steady stream of information coming to the goddess' ears. Everything and anything relating to the other deities, whatever information she might find useful now or in the future, paid for richly from Greed's own hands. It might be only a beginner's play, but setting up stock for the future could never hurt. Anyway, such things were harmless... until they suddenly weren't, and by that point Phaedra was probably within striking distance anyway.

While finding him hadn't been her sole intention, knowledge of the Dragon's residence had been an irresistible temptation to Phaedra. The goddess rode out, leaving Avita behind; such sport was not for servants, but for her and her alone. Vekhal carried her along the roads, the qilin moving swift and sure, soft ebony skin rippling over her wiry muscles.

She left the qilin behind before the final approach, trusting in her own speed and agility rather than that of her mount. The creature would return to her at her call, she knew. The Dragon King's home was simple to find, lit up and guarded as it was.

Of course there are guards; of course they are demons. Ah, Jin. Phaedra grinned from her position behind a partially-broken wall. It felt like old times again, even if this wasn't their Lord's property. Truly, she had no particular target in mind today - whatever he had, she supposed.

Provided she could get in.

The goddess was glad in tight-fitting clothing, befitting a thief; her usual finery was unsuited, and all her jewels had been removed save her own, still winking golden in her eye socket. Her tail twitched lightly back and forth as she watched, trying to get a feel for guards, patrols, security. Thievery was not her domain, but it was a tool she could use as well as any mortal.

Or had been able to use.

Picking her moment, the goddess darted towards the house, aiming for a likely window.