Meepfur
(?)Community Member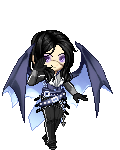 Posted: Sat, 12 Jun 2010 06:59:23 +0000
Love was lost. Not physically - he knew exactly where he was going, to Eamnonn's temple on the back of his white erras, Caoin. No, it was in other respects that he was lost, and lost almost utterly. Earlier today, his daughter had moved out. Adrienne, who'd occuppied his most of his time for the last three years, wasn't his anymore. She was Glyph's.

He didn't even know Glyph! He knew of him, of course, and what he knew was good, but it wasn't the same as knowing for himself, for sure. He couldn't help but worry, and certainly couldn't help but miss her, even if it had now been only a few hours. Just knowing she was gone was enough to do it, although she was right down the hall. But he couldn't go and bother her all the time! Forest probably didn't want a bonus Love God to go with his almost-aoide.

He had intentions of meeting Glyph tomorrow, after giving Adi today to get moved and settled in, but in the meantime, he needed a shoulder to cry on. He had his own aoidei, of course, but what he really needed was the soft shoulder a wolfman.

Caoin, who'd been understandingly quiet for the duration of the trip, halted when they reached their destination, allowing his god to slide off before trotting away to wait. Rio tugged absently at his shirt, ran a hand through his hair, and out of habit made sure everything was in place. What he couldn't fix, though, was that he'd clearly been crying.