zen and rei
(?)Community Member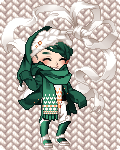 Posted: Mon, 21 Jul 2014 01:48:24 +0000
PynaplGiraffe
momo desu ga
PynaplGiraffe
momo desu ga
PynaplGiraffe
-has 15,000,000 gallons of water piped into the room, making little desk islands-

Everybody up.
Gahahaha! Now I get to support a giant slab with water up to my fundoshi? Dean's actually doing a pretty good job! Gahaha! This is getting interesting now!
Shall I get a few of my workers in here to take care of that slab for you?
No way! My pride wouldn't allow it! If the dean's gonna punish me, I'm gonna take it full force! I'm Momo, and I'm not gonna give up here!
The Dean is nothing but a man-child. I could come up with far worse punishments. Poor guy must not have a proper education.
Gahahaha! That may be true. I mean, I once sat in a pot of oil slowly heated up by a wood fire with a candle floating on a leaf. Even the tiniest of movements would tip the candle over and light me on fire, and I had to stay in it until the candle burnt up! Now that's a punishment!