Ulquiorra Espada X
(?)Community Member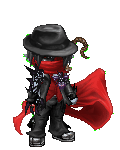 Posted: Thu, 25 Sep 2008 01:11:40 +0000
Phantoms Angel of Music
Ulquiorra Espada X
Phantoms Angel of Music
Angel gave a little sigh as she opened the doors to the library. Riscaa had been right, she needed magic to dust this place. She'd just have to do it by hand. Oh well. No time like the present, she thought with a grin. She smirked, and rolled up her sleeves. It was good to have something to do again.
Frost Walks through the Front Doors of the library Remember he needed To feed his Girl He walks over to her smiling wrapping his arms around her hugging her
'
"Angel you still have not fed you need To before you Get to weak "
She sighed, she hated that he was right. It had been so long that, much longer and she'd have to go to ground. She turned in his arms, her right hand going before her to move the collar of his shirt away from his neck. She wasted no time, better to act quickly than to get lost in the bloodlust. She leaned in, placed a quick kiss on his neck, and bit down hard.
Frost slowly Wraps His arms around her Running his hands down Her back Pulling her In pushing His blood Into he wanted her To get what she needed what was Long overdue They back up So she was leaning agaisnt the wall Holding him Tight in her Grip as He softly kisses her neck Back
"There you Go Feed my Girl Feed Angel"