Knitty Witty
(?)Community Member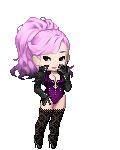 Posted: Mon, 06 Aug 2012 12:56:31 +0000
XXXXXXXX
Fire was off in the distance, illuminating the night sky. The smoke, which was rising from Ormont, was threatening to choke off the fresh air and in turn, the people who now found themselves without any protection from the elements. The Queen, as it would happen, was one of those people. Once the Symirian threat had been defeated, William had ordered the men (and women, for that matter) to begin making a makeshift camp. Feynirr was no longer safe, and what was safe wasn't worth risking your neck in the flames.

Carys sat in the tent that she and William were to share, and wrapped herself tightly in a rough and itchy wool blanket. The coarse texture grated on her skin, but this was no time to complain about the lack of luxury. Men and women had died trying to kill these stupid things. At first there had been rumors spread by the Templars that the Symirians perished once the walls of Ormont crashed over top of them, killing scores of them until they fled in panic. Then, more voices began telling each other secretly another version. It seemed as though as burly fire mage had lost his reason and chased after the true Silver Mask, slaying the creature and starting the fire that was now ravaging Feynirr. Once the leader was dead, the whispers claimed, all the other Symirians crumpled to the ground. Carys, personally, thought the second story was much more likely, as the Symirians that had been crowding in around her, William and Greystone had simply dropped dead like flies not moments after William had pulled her from her precarious situation.

And he had hugged her! It wasn't anything revolutionary, as in rare moments he did see fit to be amiable to Carys, but still! A small smile plucked at her lips as she looked over at William. That smile fell into a scowl as she watched her husband and Greystone begin to argue over trivial details of their new plans. They had been arguing with each other since dusk, each trying to overrule the other's plans for trying to recapture Dansa and bring Fedyor back to some semblence of normal. Carys smoothed down her hair and stood, quickly closing the distance between the three of them. It wasn't hard, considering the cramped condition of the tent. William looked up at his wife before merely rolling his eyes and retreating back into the maps and battle strategies before him. Greystone ignored Carys all together and began sticking her finger on various plots that William was attempting to read, all the while exclaiming in one reason or another why his plans were not reliable.

Perhaps it was because he had rescued her earlier. Perhaps it was because she was beginning to feel some small bit of loyalty to him. Or perhaps it was the pregnancy horomones coarsing through her blood. Whatever the reason, annoyance and frustation flared up within the Queen, and she quickly swatted at Greystone's hand. The blonde looked up with a very annoyed look on her features and Carys merely returned the glare. "

You and my husband have been arguing since the sun went down, and it is growing late. Leave us, Greystone. You are not the only one who seeks audience with the King. I will not tolerate you leaving him in a sour mood for me to handle. Do we have an understanding?

" The young Queen stood straight and pointed quite certainly towards the tent flaps that were just a few feet away from the trio.

Greystone nodded curtly and managed to spot off one more reason as to why she thought William's plan would not work. The King glared at the Templar, and it would almost seem that seething anger and distrust hid behind his gaze. Carys watched with disinterest as the Templar left their tent before taking her place across from William. "

Do we have any word from Willow or Lord Bern? I haven't seen her since the tunnels collapsed when we were trying to get to Idrian.

"