Azure Ryuu
(?)Community Member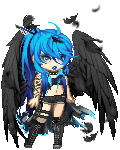 Posted: Thu, 29 Mar 2012 05:40:19 +0000
Once upon a time, wise, ancient beings use to roam the lands in harmony with humans and the other creatures which thrived on the earth. These ancient creatures known as dragons were there to keep the peace, allowing only the pure-hearted to become what is known as dragon riders. All seemed well, until one of the riders fell to greed and decided to use a dragon's power for evil. Swallowed by evil, the dragon's pure white scales turned as black as cole and the once lush land turned to darkness. One by one the dragons and riders a like fell to this new evil and the once abundant dragons began to dwindle as they were hunted down and slaughter. By doing this, the prince of darkness believed no one would dare challenge him without the power of dragons. He believed he would rule as king for as long as his dragon would live. Those who submitted to his darkness became known as the Tenebris dragons. Although not all dragons had their scales turn black, it's very rare for a dragon of light color to be found among the ranks.

But all is not lost...

Despite the low numbers of dragons and their riders not under the prince's control, some do still exist. A dragon has risen up, voted into the role of king by his followers. These dragons have yet to name themselves, but the prince is fearful of their upraising. Those creatures who still have the right to dragon friendship have a mission to take back the land that once belonged to all and dethrone the prince of darkness and his dragon. An epic battle between the last riders and the followers of darkness have broke out and no one is safe.