Cassadega
(?)Community Member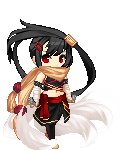 Posted: Tue, 17 Apr 2012 17:32:29 +0000
Once again the demoness expertly evaded her questions, leaving Mina none the wiser as to her true intentions, but she breathed a sigh of relief when the demoness said that Alex would live. Then the wolf demon introduced herself as Tala, so Mina gave her a polite but slightly confused greeting, attempting once more to get to the heart of the matter, but Tala would have none of it. For a demon, Mina thought she was surprisingly... playful. And that quality only served to make Tala even more of a mystery. As she departed, Mina started to give her the customary farewell: "May the spirits blessings go with you" before interrupting herself, realizing that it was entirely inappropriate to say such a thing to a demon. The scriptures clearly stated that the spirits of all living things shunned the unnatural, including demons.

She pondered that for a minute. Even the very figures of speech she was raised to use, were against her showing any kindness or mercy to demons. When she first started her journey, it was to try to reconcile her teachings with her heart, and now that it had been nearly two years since she began, she found herself no closer to finding the answer. She looked down at Alex with a sigh, then shook her head. Now was not the time to play philosopher. She hoisted him on her back, and carried him a short distance to a spot next to a nearby mesa. It wasn't quite a cave, more of a rocky overhang, but at least he would be less exposed here while she went and gathered supplies. About half an hour later, she returned with a medium-sized pouch, and an armful of firewood. The fire would serve several purposes: to brew a remedy, to keep both of them warm, and to be used as a beacon for others to find them. She lit the fire a safe distance away from Alex, then checked on his condition. He still felt as cold as a corpse. Thinking of ways to keep him warm, Mina hit upon an idea which was, perhaps, a little risky. But Alex was unconscious and there was nobody else around to see. If any rescuers came, she would be able to see them from a distance out on this open wasteland before they got too close. And she had to do something to keep his blood warm.

So Mina stood up, took one more glance at Alex to make sure he was completely and totally asleep, then untied the bow on the sash around her waist. Setting the red sash down on the ground, she then slipped her robe off of her shoulders, unfolding it so that it returned to its original configuration as a large rectangular cut of white cloth, albeit with the sleeves sewed on. Standing over Alex, she draped what was once her robe over him like a blanket, and then backed off, rubbing her now bare arm a little uncomfortably. The truth was, she was currently not much less dressed than D without her jacket, but Mina was accustomed to a significantly more conservative style, as mandated by her station as priestess. The thought of being seen like this mortified her, but she figured she would hear Alex stir if he woke up, and she could see anybody else coming from a mile away. Taking refuge in such thoughts, she turned her back on her patient to begin preparations for when he woke up.