Comfreak637-2
(?)Community Member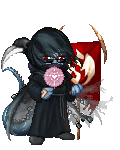 Posted: Tue, 24 Apr 2012 19:24:21 +0000
This post possibly pushes the envelope the most yet, PLEASE do not read if easily offended or faint of heart.
I like your pants around your feet, And I like the dirt that's on your knees...
Watching her cross her eyes to see the ghost wire and try to find a way around it was amusing to Drake. Like Kira, he enjoyed using numbing and paralyzation agents - they were filthy, horribly dirty trickery, and that's what made them so fun. Using those superbly crafted daggers of hers, She used one of their freaky abilities to help her inside. Mildly disappointed, but also proud that she had managed to make it past one of his simplest, but most difficult traps.

Watching her undress in his bathroom, even only partially revealed, was turning Drake on, especially the lasciviously sensual way she was slowly stripping, tossing her clothes across his bathroom, completely unaware of what was about to happen. Krystal. Naked. His room. Shower. That was all the goading Drake needed. As he heard the shower start up and the curtain draw, and the splash of someone actually in the shower, he used that noise as cover as he drew open his nightstand drawer once again, this time, removing a small phial of perfectly clear liquid. Muttering to himself wordlessly as he thought, 'Let me see, a thin film on two senbon, that would be 3 ml at most... He thought to himself as he withdrew the needle he had used to the stimpack,

Pulling up the plunger until the fluid read out at 6 ml, Drake flicked the needle and pushed out a miniscule amount to remove any air again, and jabbed himself. The Botox antiserum would take effect almost as quickly as the poison itself. Padding over to his closet, Drake withdrew a pair of handcuffs, a dark smile forming on his face as he looked at them for a brief moment. Looking up, he considered various other toys stashed away in his closet, but settled on them. Feeling his tongue slowly regain its function, he smiled. "Good... good... I need this for what I'm about to do to you, my little Krystal..."

Slowly walking into the bathroom, Drake was shaking with mirth and anticipation. Creeping up to the shower, Drake crouched down right next to the curtain, the outer one a decorative pattern of black geometric shapes adorming a dark dray backround. His bathroom, like his bedroom, was relatively bare and consisted of Black, white, and various shades of gray. Smirking, Drake slowly pushed the curtain away a hair,..

Drake stifled a sigh of appreciation. The moment he saw a wrist within reach, he slapped a handcuff on her. Quickly standing before she could react, he then attached the other to the shower bar, which was bolted into the wall studs for extra support. Drake felt the surge of victory and satisfaction Hiding his emotions for a moment, Drake stifled a triumphant laugh as he stepped back to watch her struggle with the bar behind the curtain.

Crossing his arms, he pretended to be upset with her, his hands on his hips. "Krystal, you know that botox is potentially lethal, that wasn't very nice." rummaging in his nightstand again. Upon his return, he held up the four bottles, one containing lavender-colored liquid-gel pills, the other three containing liquids with different markings on them. "Botox antitoxin, Standard issue Stim, General Anti-Paralysis, and Metabolism Depressant." He smiled at her once more, the shower still running behind her. "Safety first when handling poisons, keep a first aid-kit to combat any accidental slips or pranks."

I Like the way you still say please while you're lookin' up at me, You're like my favorite damn disease
(Scene ended.)