Viice
(?)Community Member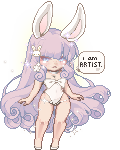 Posted: Fri, 25 Oct 2013 03:30:04 +0000
The door of the convenience store opens -- she is 3 hours late for her nothing job.

The register beeps and slams shut and her manager is standing there expectantly while she pulls off her jacket and pulls off her scarf and bites off her gloves and rolls them up in a frustrated ball to be shoved under the counter. She doesn't try to explain her way out of it because she has no good reason and she doesn't believe in excuses. Late is late is late. One of these days they'll fire her, but not tonight.

She reads the body language of every newcomer like subtitles that pop up too soon, before anyone has even opened their mouths. She says as little as humanly possible to each customer because she's afraid of her own subtitles.

"Will that be all?

Your change is 6.42

Will that be all?

Your change is 2.57"

Between customers she rinses out coffee pots and counts cigarettes, mops floors alone on a Saturday night while the never ending blizzard rages outside. She scribbles thoughts that aren't her own onto a napkin each time she passes by the pen.

"Living alive.

Just living a lie.

Smoke on the water

fire

in the

sky...."

Writes it just to get it out of her head, writes it just to look at it.

"Write to sooth the soul sang the spirit.
Sing to sooth the spirit wrote the words."

Someone always walks in just as her eyes begin to glaze over and she blinks it away and crumples up the napkin, tosses it towards the garbage and misses, trudges back to her post with her wrists all tense and full of his words. Looks at the stranger and the stranger looks back but neither of them see anything but body language and social ques. She says as little as humanly possible to get them out of her store as quickly as they rushed in. Nobody comes to stay anyway.

"Will

that

be

all."

And when they turn their backs to leave, she chews the skin on the edge of her finger.