Laureli ObsidianFang
(?)Community Member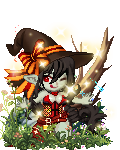 Posted: Tue, 14 Feb 2012 21:57:20 +0000
Divona Arethina



The Chubby Chocolate Southern Loli Demon



Divona smiled up at Shin as he introduced himself, giving a nod to confirm her own name,

"Wonderful to meet ya Shin."

she said, listening as he went on to say something about his father and his work, but part of it was lost on the demon as a strange woman popped up, spouting something about a man who ran past and his girlfriend, as well as complimenting her halberd, to be honest she didn't catch all of it. This was certainly the strangest day she'd had in a long time, very busy and crowded but she'd never minded crowds too much surprisingly, she was a small town girl, but she'd always loved the market place and the big cities she'd visited since she left home had gotten her very accustomed to large crowds.

"Er, thank you?"

she said in regards to he comment about her weapon, trying to follow the fast paced and somewhat jumpy line of conversation the girl had spewed out, but it was a bit complicated, guards and elves and who knew what. Divona couldn't help but laugh softly and shake her head a little,

"Ain't you a spirited one? A brawl? Maybe these knights here would like to lo-"

she cut short as she glanced over to see that Cyneward was close to Nico, looking as though he was about to strike him, with Anna holding onto his arm. The demon caught something about an army of monsters headed toward Feora and felt her heart skip a little as the concept struck her. Were they the same monsters her caravan had been attacked by? The Strifesworn was what the knights had called them, if there was an army of those creatures headed toward Feora and they'd already decimated half of Sorvetta, the city was definitely at great risk, and likely ill prepared right now. It took a moment for Shin's question to sink in for the demon, shaking her head a little she looked back up at the tall man,

"Uh, sorry, traveler..."

she answered, clearly a little distracted by the news about the monsters.

Divona was startled out of her thoughts by the shattering of glass as a man flew through the window of the tavern they were all standing just outside of. Yelping, she stumbled backward, catching her balance using her halberd as she blinked a bit. She'd been sprinkled with bits of the colorful glass and it took her a moment before she realized that there were a few bits in her hair as well as down the from of her dress. Frowning she brushed her fingers across her dark hair, dislodging bits from her pigtails before she had to fish her hand down her dress a little to get a few pieces, being careful not to cut herself on the sharp edges as she cast aside the shards.

"Well, that's one way to make an entrance, or an exit I suppose, ya mind not covering us in glass next time though?"

the demon requested with a small laugh, keeping good natured as usual despite the bizarre circumstances, though her mind quickly turned back to mention of the monsters that would be descending upon the city within the next few days more than likely. Turning to look at Cyneward and Anna, the demon cleared her throat a little,

"You ought to take her to give her report."

she suggested, though she was sure they intended to do so.