Kail Tribal
(?)Community Member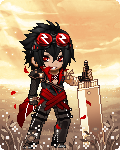 Posted: Mon, 13 Feb 2012 20:00:54 +0000
The Adventure Begins
In the world of Thelania, the city of Feora has been home to many different races for many years. Humans, elves, dwarves, demons, vampires, faeries, and more have all coexisted in peace for as long as most can remember. However, all is not well. Several witnessed attacks have been reported, all carried out by an enigmatic race of monsters named 'Strifesworn' often targeting farms and knight camps. Some have been commissioned to hunt these monsters, and mercenaries like to involve themselves for the chance of some sort of reward. However, one thing is for certain - the Strifesworn are enemies to all, and if they are not stopped they will tear the city apart, perhaps destroy the kingdom, and maybe even take over the world. But uncertainty clouds any sure way to put an end to the menace, and unbeknownst to many, the Strifesworn are preparing to attack Feora, and as the situation currently stands, the city will be devastated. Many will have to unite in order to stand against the Strifesworn, but will they do so in time?
Join the fight, and protect your land!
...Or, choose to destroy it alongside the Strifesworn, as one of the select few who secretly lead the monsters...
Whatever your choice - for better or for worse, welcome to the world of Thelania.