AngelaDarr
(?)Community Member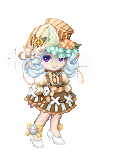 Posted: Fri, 05 Oct 2012 07:28:44 +0000
XXXXXXXXXXXX
Prince
Galen
Baal
Galen could feel that immense soul-crushing fear in the air, and he knew it had no right to be there. His eyes were locked onto hers, as he remained resolute. "Ah. Yes you, the one who shares his blood." his eyes peel wider ever so slightly, Shares his blood? How was she supposed to know that?? Did she do something to father? No, not yet. There were no signs of it, and if she did, Galen would be dead right now. Galen stood tall as the woman's tail curled around her leg. She simpered an curtsied mockingly, yup. She was angry about something. It would take a dummy not to notice..."I do apologize for creating such a mess in your lovely castle..but your men did provide me with…a rather good snack." The sadistic woman's teeth snapped together like a crocodillian. Galen's sharp gaze glinted toward the men sadly as they jumped...his anger was beginning to boil. They shouldn't be jumping. She had no right picking on them like that...none at all. They were servants not culprits. He didn't like seeing the men quake in their armor. Galen replied with restrained calm a twinge of sadness emanated from his voice betraying him, "I'm not concerned about 'the mess'." His eyes lingered over the body she left behind. The boy said allot by what he didn't say, unless he felt he did something wrong, which was what happened around his father quite often. The poor man wasn't much different than one caught in a spider's web. All that was left was an empty husk. Her tail swayed elegantly behind her in rhythm to her hips as she advanced toward the boy, her heels clicked just at the right second as she deliberately marched toward him. Some poor guards tried to get in the way, but they were scared, and their pride and resolution had disappeared with the valiant man's unjust demise; with that, they crumpled away at her touch.

"Stay calm." she told the guards. "Make any sudden movements while I am speaking with your prince…and I'll come back and tear your heads off." The boy could feel his anger kindling slightly. Without really being able to stop the words form leaving his mouth, the boy replied to the demon by commanding the men, "Do what she said. We don't need anymore wasted blood." His eyes never left hers. These were his men. They listened to his orders. Second only to his father and his father's commanders.

The woman drew close, too close, he could feel her hot breath on his face, chilling his neck. "Remember me?" she cocked her head at him like he was a mouse waiting to be experimented on by the household cat. The boy replied carefully, "...I remember an angel who wouldn't have hurt a fly...You. You are someone new to me." Of course the angel part was figurative. It was meant to signify innocence. He held still she she drew her body close, just touching his. He resisted a cold shudder running down his spine: his statuesque face however had not changed. "Mmmh..You do smell delectable." What kind of a woman is she? What happened? Galen could only hope he could manage to live through this. Great. Of all people to bring to a poor man's banquet, father brought a delicatessen. No, no this would not go well.

He felt a strange smile tugging at his lips, whether it was nervous, stupid, or just plain cheeky, "You seem quite the accomplished delicatessen. I don't think you came to this poor man's banquet for no apparent purpose?" It was a dry way of saying what the heck do you want lady? But he had to handle it delicately. She obviously had a screw loose.



XXXXX
XXXXX
((O.O.C.: {He thought she was trying to trick him... Poor sap. I kinda want to undo that part...But yeah too late~! Hopefully, they'll eventually fix it... It might make it interesting if he could somehow work it out after, but I doubt that's likely....}
))