Lady Gilaen
(?)Community Member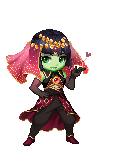 Posted: Mon, 07 May 2012 03:23:02 +0000
arrow
Guildhall Ward, Hospital
A few hours after the altogether baffling attack on the Dark Swan, the four who had fallen to the deadly fumes were safely tucked away into series of hospital beds at the opposite end of the Guildhall Ward. Paired two by two, the twins had of course been placed in a room together. They were a matching pair, after all, and none would think to separate them. That left Tres and Lovi to a room split in two by a large white curtain. As though the other half of the space were a window into a grim truth that neither of them wanted to see. Not that any of the patients 'could' see, as they were all presently unconscious.

Or they were.

Lovi opened her eyes slowly, the distilled scent of the place reaching into her mind and pulling forth memories that left terrible dreams in their wake. She was confused, as one might have expected. Looking back on the event that put her there was like trying to remember a fleeting dream. It didn't seem real at first. But then, what did in such a place as Sigil? She recognized the feel of hospital gowns and sheets. She wondered if she had been injured, but there was no blast from whatever bomb that b*****d KB had planted. She did feel sick, though. Very sick.

Charisma sat in a chair not far off. Lovi could hear her breathe, the room was so quiet.

"Charisma?" she sounded tired, but not as weak as she might have expected, "What happened? How long was I out?" And why did she feel like such a colossal pile of s**t?