Lady Gilaen
(?)Community Member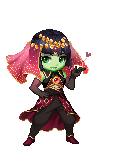 Posted: Sat, 28 Apr 2012 19:23:00 +0000
>>>The Dark Swan

Lovi had run the whole way home, never having stopped long enough to think of hailing a cab to save her the time and physical exhaustion. Still, without any real proof or point of reference, she believed it was probably the fastest she'd ever moved in the entirety of her life. The door was open when she arrived at the Swan.

"Dammit," she thought aloud in a breathy tone, "Does a locked door mean nothing to these people? Why is everyone so bent on destroying my damn house?" She wasn't fully aware that she'd voiced her thoughts openly. Not that it would matter, given that the mansion was empty, save for whatever soon-to-be corpse wandered her halls with a box of explosives.

She paused in the entryway to catch her breath, but as she did a foul stench met her nose and bid her follow to its source. She'd thought she dulled her sense of smell somewhat from smoking as long as she had, but the awful odor was persistent. The scent of death? Maybe. It seemed more like compost than anything vaguely human. She followed the smell through the main floor halls and to her office. Its door was also open.

She wasn't aware of the toxin in the air, nor would she know whether it had dissipated enough for safe entry, but she'd obviously find out as soon as she entered the room. There was a faint smog of something floating about. It had stained the walls and ceiling slightly, but apart from that there seemed no obvious signs of an explosion. Aside from that, a briefcase on the floor, a wadded piece of paper across the room, and a pile of clothes over what seemed to be that pile of plant compost she had sense before.

"The hell happened here?" she queried to herself. Her sheer anger from before had subsided..briefly.