ExcessivelyTimewise
(?)Community Member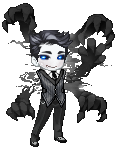 Posted: Mon, 10 Sep 2012 20:08:04 +0000
"I know now that there is no one thing that is true - it is all true."


"No, nothing at all, thank you." There was a slight, knowing smile and a nod. "You could say that." The smile slipped away again and Byerley's face was once again unreadable as he engaged in some subtle people-watching. With all the conversations going on around him, people nursing drinks that demanded their full attention, it was guaranteed that he could get away with it so long as he didn't make it obvious, his eyes never rested on any one group for too long; be it the shifty man or the group that Valentine had indicated as her comrades.
The change in lighting caused him to raise his eyes momentarily.

The town had power again? That was nice; Raiders had less cover of darkness that way.
The nudge from under the table brought Valentine back into sharp focus, rousing Byerley from private thoughts that had ranged from the hasty burial of the Brahmin previously to the moment they entered the door of the Fission hole—and everything in between. He even glanced downward, not entirely sure the nudge had been intentional before he looked back to pinkhair.
"I… to a degree,I can generally hit something at 35 to 40 yards away, depending on the conditions—average range. Moving targets are difficult, but I've managed to kill some of the raiders on the way into town." He said quietly with a glance in the general direction of the weapons closet as if it might bring the weapon back into his hands.
Despite the neutral voice, he couldn't help the almost dejected tone that crept into the edges of his voice. "I apparently didn't kill enough to make a difference in their numbers…"

It was very well all the same, he told himself. If killing many of the raiders had been one of the unspoken criteria to be acceptable there, many of the townspeople would be worse off than he was. He shifted uncomfortably in his seat, lacing his fingers together as his eyes briefly skimmed the surface of the stew. It didn't look too particularly appetizing, but then again nothing ever did when one didn't have the concept of hunger and taste. Alcohol certainly threw him for a loop, he only found it useful for improvisational firebombs.

You just want him to draw attention to himself in that tuxedo. XD