Rocker Virus
(?)Community Member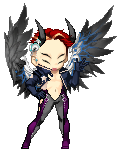 Posted: Thu, 13 Sep 2012 01:48:16 +0000
tab tab The grin never left Calcifers lips as he watched her expressions change. Be if from the scared little girl, to the enraged look on her face, or even when she realized, just who he was and her look returned to fear and innocence. He could easily tell she was more or less worried, had she killed him, she'd have to deal with a pissed off Nonaka, and if she didn't, she'd likely be eaten alive. Though Calcifer was more worried about Nonny beating his a** as oppose to dying of starvation.

tab tab Calcifer simply stood there and listened for a moment. Had she been telling the truth, eating her, or taking advantage of her, was probably out of the question. Nonaka was without a doubt already pissed he had been gone for so long, 'She must have simply gotten lonely and picked up this stray.' He stepped along with each shuffling movement of her feet; his own stance was very feline, as strange as it sounded, almost feminine. Dainty and light steps, one foot just a head of the other, nearly walking toe to toe.

tab tab Had she have to guess, it wouldn't be hard to figure what sort of lycan he was, but she had already know, as long as Nonny spilt her guts as much as he figured she did. Though he did understand where she was coming from, he did get quite lonely when he ran off, but being without his lover, and being a pack animal on his own didn't help. His nose cringed, sniffing the air and catching the girls sent, she was without a doubt covered in Nonny's scent. Be it from snuggling, hugging or just being so close, he couldn't tell. But there was no doubt Nonny didn't know about this girl.

tab tab It took a moment to click in his head. "Skittles… I don't even like skittles." He mumbled to himself, his eyes rolling away from the girl for a moment as he reminisced about the overly sweet taste of them, Calcifer preferred actual fruit to the fruit flavored sugar pellets. As the girl made her way closer to the door with another shuffle, his eyes snapped back down to her like a predator watching it's pray. "Where do you think you are going?" A large grin played his lip as he closed the distance once more.

tab tab Calcifer was never stupid enough to enjoy another female anywhere Nonaka would find him, and he cottage was obviously out of the question, though it couldn't hurt to have his share of fun, anything to get his mind off his stomach and the beast inside stirring up trouble, but for this girls sake, she better hope Nonaka returned soon.

tab tab "How do you know she'd miss you? She'd have me back. How do you know she hasn't just been keeping you around for a welcome home snack for me." He knew this would put him in bad water with Nonny for screwing with her little pet, and even worse water with the girl herself. But with how Calcifers mind worked, she'd either be food or cannon fatter sooner or later.

tab tab Calcifer could have just as easily tossed her aside and ran off looking for a meal that Nonny wouldn't kill him over, though he'd risk disappearing again and digging his hole deeper with Nonaka. Or he could have followed her trail, she wouldn't be that far off, but this sweet young thing was just too much fun. Though after a moment, Calcifer stopped and raised his head, looking around almost like radar, he'd sniff the air again. Obviously he felt something was near.

tab tab Just as Calcifer had thought, a pack of wolves were skulking around HIS home. Sure they weren't accustomed to going after Nonaka. But Calcifer, he had a price on his head, one that ground grant immunity and the life-long back up of Fallen Wing. Not to mention those prize fangs of his. They seemed to be circling the cottage, waiting. The longer they waited the more it seemed like there was, had Skittles ears been keen enough she'd be able to hear the collective snarl of the beasts outside.