Mississippi Black Velvet
(?)Community Member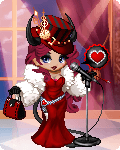 Posted: Mon, 08 Oct 2012 04:26:56 +0000
Why do you smile
Like you've been told a secret?
Now you're telling lies
'Cause you have sworn to keep it.
Katheryn -Kat- Reinheart

Kat flinched as she watched the other girl deliberately place her hand flat against the glass on the door, it was all she could do to bite her tongue and keep from snapping at the girl as she forced a painful smile to her lips. They had both established a quasi peace treaty of sorts so why ruin it because of a little old smear? It wasn't just some little old smear though it would take Kat at least a good solid 30 minutes to get the glass clean again but that was neither here or there as she narrowed her eyes watching the little hellion propel her body forward and began roaming through the shop to look at the clothing. Kat couldn't help the smile that twitched at her lips as she caught what it was the girl, now known to her as Eva had said offhandedly. Raising a brow Kat pinched the corners of her shirt between her thumb and forefinger, slid one foot in front of the other and directed a regale albeit sardonic curtsy in Eva's general direction.
"A pleasure to meet you, madam Eva. You may of course refer to me as your lowly servant Katheryn, Kat if you prefer."
She said demurely though the docile attitude was a far cry from the wicked glint in her eyes as she raked a glance over Eva from head to toe having already done it countless times before but she figured a third or fourth time wouldn't hurt matters any.
Do you know where I am// Boutique
Do you know how I feel// Irate//Intrigued
Do you know who I'm with// Eva
Got a secret,
Can you keep it?
Swear this one you'll save.
Better lock it in your pocket,
Taking this one to the grave.