Dylan The Oni Smith
(?)Community Member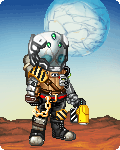 Posted: Wed, 25 Apr 2012 06:28:06 +0000
Was this... Was this real? Was it finally? Had it finally ended? Had the madness of Vile, after all the madness he had wrought down upon the planetside, upon the people, upon my life and everything I found important... Was it truly all over?
I realized something important. I still had the heart in my hand. Oh my god... I actually had the meaty chunk of pulsating flesh, in my hand. Spurting blood. Leaking all manner of alien and standard fluids upon my claw. Realizing... After hundreds of years of battle. After three generations of madness and murder and wonton destruction... I had Vile. In body and soul.
I glanced over, just sitting down for a moment as the crashing Merkabah was breaking apart around me. Explosions. Madness and malfunctions were the flavor of the evening. And to make matters worse... I didn't know if he'd stay in there.
I got up, "devouring" the heart only to have it disappear into Huckleberry as I went towards the Spirit Trap. I looked at it in a skeptical sense. Hell, after everything we had gone through, a simple piece of technology and ectoplasmic binding seemed insulting. But hey... I got a good victory in. No. Not A victory.
The

Victory

.
After thousands of years of existence, I finally euthanized my one, true rival. I had his heart, the only piece I'd ever need again to remind me of this victory, and his soul. Trapped. To a long, endless torture of listening to the same subliminal messages he forced the children of the world to endure for market supremacy.
And speaking of children, there were two kids to the right of me that were stark. I actually was shocked by this as I turned and proclaimed, embarrassed;
"Aaah s**t! Sorry! Here let me just... Uh-"
I avoided direct eye contact with the now pondering Roselyn, unsure I think how to really feel about this as I snapped my fingers and a few, metaphysical ribbons of soft cloth would begin to fold over her like a phantom cocoon of red and black. Then slowly a full dress would appear with even a little apple-shaped brooch on her outfits left lapel.
I coughed a little at this as I looked forward and down at the boy, a little less embarrassed as my hand extended outwards and layers of dust, or rather molecules from the remains of the platform began to rise upwards and wrap him a fine grey layer of cloth. Then more. And more. In fact, it took on more and more of an appearance of a robe that was tightly held to him. It had layers of red, and blue and it even all had vertical stripes like the suit he had on. Right now, it was just something that would be decent and warm enough for the kid. I mean...
Realistically I did just rip him from the soul-base of a dark god. Any normal person, plain and simple, would have been destroyed. He needed some... Comfort. For once in his short life.
Then I realized what was actually going on around me as I began to lift the boy up with a large series of little, hook-like tentacles that used the robe as a form of stretcher, only for him to be held in a duo of arms at my side and wrapped under my right oblique.
I reached down into my left pocket and withdrew my "Car Keys". And from the many little switches and gizmos found on it, I pressed at first one little button that opened a portal into the Bushel, on one of my private floors, and removed my glossy purple 1955 El Dorado Cadillac from the planet Earth back in Dimension E4R-7H.
I had it scroll in, the loose, dangling fuzzy dice and plush black padded seating adjusting slightly as it became longer. I laid the boy down, having it almost develop a full pillow for him as I made sure I got the girl inside of it.
I snapped my fingers and whistled at the vaguely familiar form of Jacob Reynolds. The former leader of the Cygen that was very much nude but at least he wasn't under 21. I kind of steeled my eyes away long enough for a pair of pants to magically grow around him and then sew themselves on without error as I opened the door for him.
"Hey man, we need to talk about some things."
I said as I started up the engine. Then I realized something.
"Wait... Where the ******** is Abyssin?"
I actually was worried, I mean yeah, Abyssin was a fellow of meager importance at this point but still extremely competent a player in this whole debacle. I honked the horn a couple of times and raised my head around, looking for him.
There were also what appeared to be two... Small bobbleheads on the dashboard. One of the duo, was something that looked like a kind of mascot that was rotund, wore a white chefs outfit and was holding a burger above his head while the other... The other looked like a large dog with what appeared to be a small barrel hoisted around its neck that had some kind of writing on it.
I would rock the car and honk again. Yelling for Abyssin above the din of the facility crashing down.